The Ultimate Iowa Waterfalls Road Trip Is Right Here And You'll Want To Do It
If you are in the mood for exploring Iowa's many natural areas you are in for a treat. We've put together a waterfall road trip we think you may enjoy. Since there are so many wonderful waterfalls in Iowa it's helpful to have a handy dandy map. This trip is just over 400 miles. You'll see some of the best scenery Iowa has to offer during this 8.5-hour drive.
Here is the interactive Google Map for our waterfall tour in Iowa. If you want to change the route, just click on it and mess around with the order until it pleases you.
You may want to take the weekend to really enjoy this trip. Take a look at the nearby towns and find a cool bed and breakfast or even an Airbnb and make it a long luxurious weekend of sightseeing. Take advantage of this fun road trip idea when you are in need of some outdoor adventures!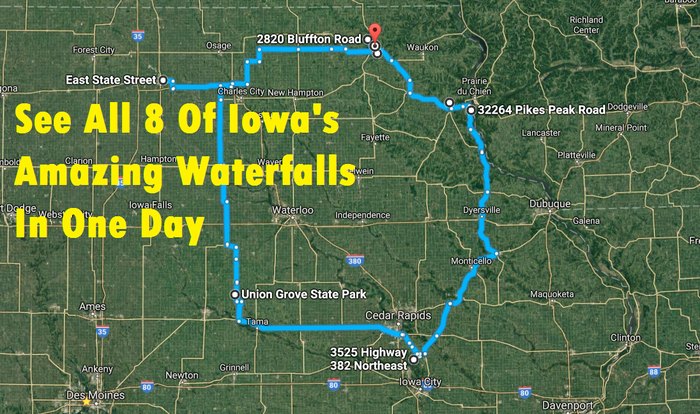 There are a few other waterfalls in Iowa worth mentioning as well. Beads Lake in Hampton has a waterfall that is the result of a dam. Iowa Falls has man-made waterfalls that are easy to kayak close to. Also, check out Marble Rock and the man-made waterfall in Mitchell. East of Mason City is the Shell Rock River Falls at Nora Springs.
What are some of your favorite Iowa waterfalls? Let us know in the comments.
OnlyInYourState may earn compensation through affiliate links in this article.
More to Explore
More waterfalls in Iowa
What are the best waterfall hikes in Iowa?
Some of the best waterfall hikes in Iowa include:
Siewer's Spring Waterfall
Richmond Springs
Lake MacBride Waterfall
Cedar Falls Dam
Boone River Waterfall
If you're the type who enjoys chasing waterfalls, we have put together the ultimate bucket list for anyone in Iowa who loves waterfall hikes. On this list are the falls you can walk behind at Pikes Peak State Park, the gorgeous waterfall that's tucked away along the Boone River Trail, and take an easy hike to the lakeside waterfall at Lake MacBride.
Are there any waterfall swimming holes in Iowa?
There are several waterfall swimming holes in the Hawkeye State. Among the favorites is the waterfall at Beeds Lake State Park. A hike will take you to a man-made waterfall where you can take a refreshing dip in the pool below.
What is the largest waterfall in Iowa?
Flowing downhill 200 feet, Dunnings Spring Falls is considered the tallest waterfall in the Hawkeye State. Don't forget to check out the Ice Cave when you visit!
Related Articles