Here Are The Best Times And Places To View Fall Foliage In Iowa
Fall in Iowa means many things. And while it's tough to see such a beautiful summer fade into fall, one of the perks of autumn here in Iowa is the beautiful show we get to witness as the leaves change from green to yellow, orange, and red. If you're curious about the fall foliage prediction map for Iowa, you've come to the right place. There are certain places in Iowa that are ideal for fall foliage viewing. It can be difficult to time your trip just right, though. Luckily, with the help of our friends at Smoky Mountains, we've put together a reliable road map for enjoying this year's fall foliage in Iowa to the fullest!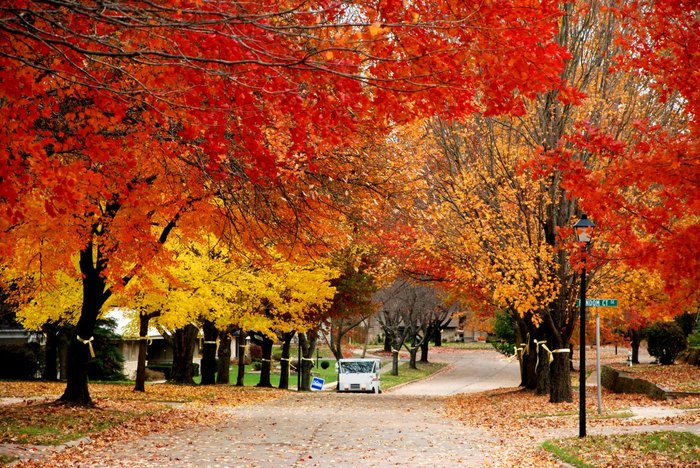 This Fall Foliage Prediction Map from Smoky Mountains is an interactive tool that will help you understand when and where to see the most dramatic autumn colors. You can access the map above and drag the date marker along the bottom of your screen to see the colors on the map change in your corner of the Hawkeye State!
Have you studied the fall foliage prediction map for Iowa in past years? Did their predictions ring true? Do you have a favorite fall drive where you can see the best foliage Iowa has to offer? Share all things fall in the comments below!
Address: Loess Hills Trail, Missouri Valley, IA, USA
Address: Ledges State Park, 1515 P Ave, Madrid, IA 50156, USA
Address: Eagle Point Park, 2601 Shiras Ave, Dubuque, IA 52001, USA
Address: Pikes Peak State Park, 32264 Pikes Peak Rd, McGregor, IA 52157, USA
Address: Effigy Mounds National Monument, 151 IA-76, Harpers Ferry, IA 52146, USA
Fall Foliage Prediction Map for Iowa
September 14, 2022
What are some of the best places to enjoy fall foliage in Iowa?
Once you've consulted the fall foliage prediction map for Iowa, it's time to schedule some amazing autumn adventures. Some of our favorite places to experience the best fall foliage in Iowa are our many state parks and forests. Yellow River State Forest, for example, is one of the great hidden gems of Northeast Iowa – and it is at its most spectacular in the fall. This enormous forest is located in Allamakee County and features over 8,000 acres of wilderness. Because this mostly untouched land has been preserved since 1935, it is rich with wildlife and wild flora. Yellow River State Forest is packed with trees that begin bursting with color come September and October!
Some other great spots for leaf peeping in Iowa include Wildcat Den State Park, Lake Macbride State Park, Pikes Peak State Park, Stone State Park, Backbone State Park, and Big Creek State Park. In terms of fall foliage towns in Iowa, Pella certainly gets its fair share of visitors for spring's Tulip Festival, but in the autumn, this winsome Dutch town is peak fall foliage splendor!
Address: Loess Hills Trail, Missouri Valley, IA, USA
Address: Ledges State Park, 1515 P Ave, Madrid, IA 50156, USA
Address: Eagle Point Park, 2601 Shiras Ave, Dubuque, IA 52001, USA
Address: Pikes Peak State Park, 32264 Pikes Peak Rd, McGregor, IA 52157, USA
Address: Effigy Mounds National Monument, 151 IA-76, Harpers Ferry, IA 52146, USA