Thousands Of Singing Spring Peepers Are A Welcome Sound Of Normalcy Here In Indiana
It's that time of year! The spring peepers are coming out of the woodwork, and you may already be able to hear some singing long into the night. If there's anything that makes the world seem normal right now, it's the changing of the seasons, and this certainly signifies the coming of a good one. Scroll on for more details.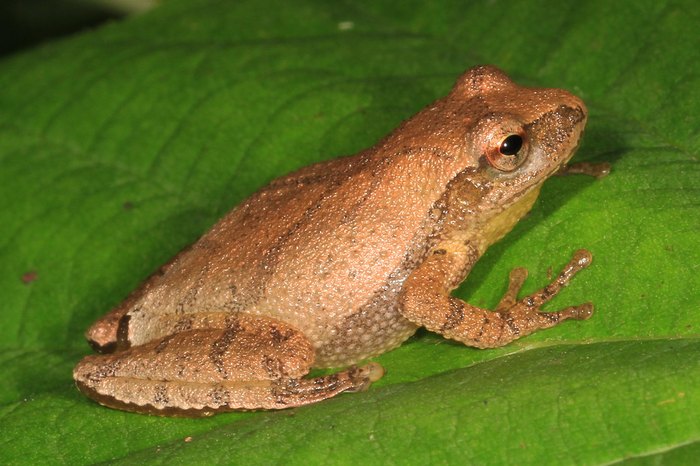 Do spring peepers come out in Indiana? They sure do! Have you heard the spring peepers yet? If so, we'd love to hear from you. Please share your experiences and photos with us in the comments.
For more fun stuff like this, check out eight places you can go in Indiana this spring.
OnlyInYourState may earn compensation through affiliate links in this article.
Do Spring Peepers Come Out In Indiana?
March 08, 2022
What is spring like in Indiana?  
Spring is, well, a tumultuous time of year. On one hand, temperatures are finally rising, some of our favorite birds like hummingbirds are beginning to return, and everything is in brilliant bloom, guaranteeing some amazing hikes in the weeks ahead. On the other hand, the weather can be super finicky at this time of year; you know the old saying "If you don't like the weather, wait 15 minutes and it'll change"? Well, that's definitely applicable to Indiana, because it sure does feel like a rollercoaster ride at times. We'll have beautiful warm days perfect for going outside and exploring, and then the very next day (sometimes the same day), we'll get blizzard conditions and several inches of fresh snow. We'll have snowstorms, but we'll also have the occasional tornado. Spring is a great time of year in Indiana as long as you don't mind rapid changes – sometimes even during the course of one afternoon! But don't get us wrong – Spring in Indiana is still a delightful time of year.  
What are some of the best things about spring in Indiana?  
Given the doom and gloom of the last paragraph, we're glad you asked! The best things about spring in Indiana include awesome things like, hey, at least we know the worst of the winter temperatures are behind us, and despite some straggler snow events, we can count on carpets of wildflowers beginning to spread across our forest floors once more. Frozen waterfalls and lakes begin to thaw, a precursor to epic summertime shenanigans ahead. Lots of hiking trails that closed for the winter in autumn last year are now beginning to reopen, and peaceful spring rains seem to rejuvenate the very soul of the Hoosier State. Seasonal campgrounds are also reopening, offering hope for the epic camping season ahead. Need some ideas? Check this article out to discover some of Indiana's most amazing springtime destinations.  
OnlyInYourState may earn compensation through affiliate links in this article.