The Ultimate Illinois Waterfalls Road Trip Is Right Here – And You'll Want To Do It
Sometimes, you just want to get out with the family, or maybe even by yourself, to unwind. Sure, you could do the obvious, touristy things, but why go on a typical trip that is super-crowded and way overpriced? Here is a super cool trip that you and your family will be talking about for years to come, and the best part is that it won't cost you much money at all. We dare you to take our epic waterfall road trip in Illinois, it's a blast!
We already did the heavy lifting by creating a handy map of the many falls in Illinois that you'll be seeing: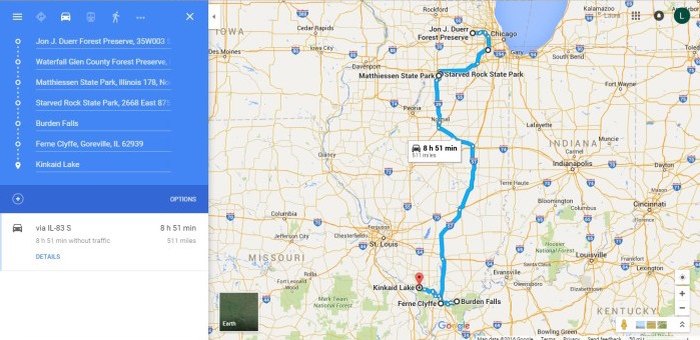 So you've got the list of Illinois falls, the map, and no excuses! So get a full tank of gas, pack some sandwiches, and hit up these waterfalls. Oh, and post some great pics of your trip on the Only in Illinois Facebook page. 
Are you excited to take this waterfall road trip in Illinois? Let us know! If you have any ideas for future articles, tell us about them!
OnlyInYourState may earn compensation through affiliate links in this article.
More to Explore
Waterfall Road Trips in Illinois
What are some of the best waterfall hikes in Illinois?  
Some of the best waterfall hikes in Illinois are
Sandstone Point Overlook Trail
What are some of the best natural wonders in Illinois? 
Folks living in Illinois are lucky to live in a place filled with so much natural beauty. Some of that beauty could definitely be classified as wonders, as they seem like something out of a fairy tale. One of our favorite unusual-but-awe-inspiring wonders in the state is the intriguing Cave in Rock – which is exactly what it sounds like. It's a cave overlooking the Ohio River with a 55-foot mouth, which seems pretty imposing the first time you see it in person. Illinois Beach State Park is breathtaking enough to classify as a natural wonder in Illinois, with six incredible miles of Lake Michigan shoreline so pristine you might forget you're in a land-locked state. The Garden of the Gods, in Herod, is home to 300-million-plus-year-old rock formations and some of the most unique geology in the state. Every one of them is magic in its own way, and we strongly recommend a visit to every one.  
What are some fun things to do in Illinois? 
Illinois is a Midwestern state with no shortage of fun and interesting things to do! Some of the must-see attractions in the state are:
Related Articles
Explore Illinois