Illinois's Glowing Pumpkin Trail Is A Great Way To Celebrate Fall
(Editor's Note: As of 9/24/21, the 2021 Night of 1,000 Jack-O-Lanterns at Chicago Botanic Garden was sold out, so make sure to get tickets early for next year.)
This Halloween, there's a fabulous fall festival of lights coming to Illinois that you don't want to miss. Enjoy a magnificent glowing pumpkin trail in the town of Glencoe that is absolutely unforgettable. Without a doubt, it's the best pumpkin glow in Illinois!
You're never too old to enjoy Halloween. Scroll on to learn all about this brilliant garden event.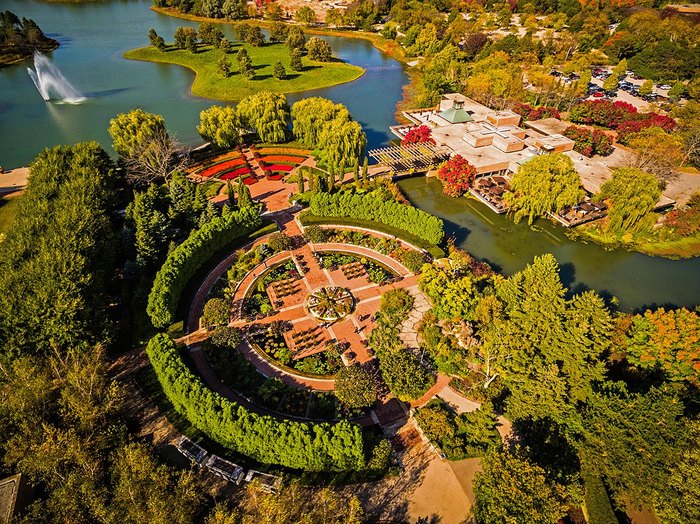 The Chicago Botanic Garden is located at Address: 1000 Lake Cook Road Glencoe, IL, 60022, and you can learn more on its website or Facebook page.
For more gorgeous places to enjoy the fall scenery, check out these nine lovely places in Illinois for the best autumn views.
If you've ever gone to see this fall event, you know it's the best pumpkin glow in Illinois! Please share your experiences and photos with us below in the comments.
OnlyInYourState may earn compensation through affiliate links in this article.
Address: Chicago Botanic Garden, 1000 Lake Cook Rd, Glencoe, IL 60022, USA
Best Pumpkin Glow In Illinois
August 03, 2019
What are the best Halloween events in Illinois?
Undoubtedly, the best Halloween events in Illinois are the ones the entire family can enjoy. From fall festivals that host events featuring corn mazes (some of them haunted!) to pumpkin patches filled with pumpkin choices perfect for carving a masterpiece, Illinois has no shortage of family-friendly fall events. For an event more tailored to the Halloween theme, head to Chicago Botanic Gardens for the Night of 1,000 Jack-o'-Lanterns. Set among the beautiful flowers of one of the garden's 27 garden plantings, the event features hand-carved pumpkins glowing bright along the walkways after dark. (More information on this event can be found in the above article!)
You can also head to Pumpkin Daze, an event hosted by Abbey Farms, located just outside of Chicago. This fall event is filled with fun activities for the entire family and is sure to be a highlight of your fall season. Learn more here.
What are the best Halloween towns in Illinois?
The best Halloween towns are those locales with the most notoriously haunted attractions. From haunted cemeteries to abandoned hospitals, ancient burial mounds, and even a haunted public library, this haunted places road trip features the perfect combination of spooky places to fill any Halloween with screams and chills.
What are the best pumpkin patches in Illinois?
People from all over Illinois seek out the quintessential pumpkin patch experience each October and, luckily, there are plenty of pumpkin patches scattered all around the state so that no one really has to drive far to find one. Most of these festive fall spots offer much more than just pumpkins. You'll find a variety of other family-friendly activities on hand as well. Hayrides, corn mazes, pick-your-own apples, and even fresh warm apple cider are mainstays at Illinois pumpkin patches. So ready the team and prepare to set out on a mission to find the best pumpkins available for carving this year's jack-o'-lantern, and be sure to come early enough to enjoy all of the activities at the pumpkin patch! See a list of the 10 best pumpkin patches in Illinois at this link!