Most People Have No Idea There's An Underwater Ghost Town Hiding In Idaho
Idaho is home to over 100 ghost towns, dozens more decaying schoolhouses from another era, and fascinating leftover architectural remnants of our unique state history. Now they're just the fading, western-style remnants of our mining, logging, and nomadic-industrial past. But one particular community in southeast Idaho is something special that is unrivaled anywhere else…
Today, there is an underwater ghost town in Idaho, and it is a mysterious wonder that only reveals itself during the driest of summers. But equally as fascinating is what has been discovered right in the heart of its century-old remnants!
The town of American Falls was once a thriving, active hub located on the west bank of the Snake River, but during what was easily the largest government relocation of its time, the town was moved in its entirety to avoid flooding by the nearby dam. The known history of American Falls is just as fascinating as what remains shrouded by the passage of time. Part underwater marvel, part ambitious undertaking, part prehistoric wonder, and part active community, this (literal) hidden gem is a spectacular portion of Idaho's history that few know the full story of… and even fewer know of the incredible discoveries that its muddy depths have revealed.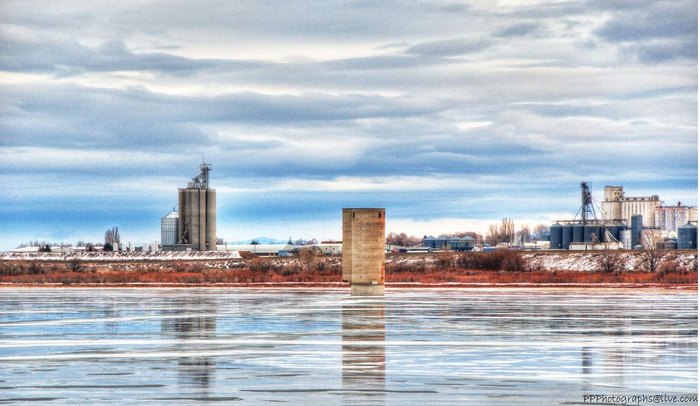 This old townsite is also surprisingly scenic when the water recedes, as this video shows.
A special thank you to YouTube user David Ross for filming this stunning video of Old American Falls. Be sure to check out his other videos as well!
This special underwater ghost town in Idaho is incredible for multiple reasons, to say the least — and what a fascinating history! If you like this, be sure to check out other abandoned places in Idaho or explore some of Idaho's unique ghost towns and historic schools.
OnlyInYourState may earn compensation through affiliate links in this article.
Address: American Falls, ID 83211, USA
Underwater Ghost Town In Idaho
March 05, 2021
Are there any ghost towns in Idaho?
Outside of the underwater ghost town mentioned above, are there any other ghost towns in Idaho worth checking out? The thing about ghost towns is that they often have a unique history within the state, often stemming from things like the gold rush or oil boom that went dry with time. Within Idaho, there are quite a few ghost towns that fell victim to time but still are beautiful in their own right. Check out these 10 forgotten historic ghost towns in Idaho to learn more.
What are the best little-known fossil sites in Idaho?
Are you interested in visiting some unique fossil-sites in Idaho? Many Idaho residents don't even know that these exist! If you live in Idaho then you don't really need to go too far in order to find some historic attractions. In fact, the Hagerman Fossil Beds in Idaho are one of the coolest natural attractions, allowing guests to spend a whole day visiting and exploring. Meanwhile, the Clarkia Fossil Bowl in Idaho is another incredible site, which actually allows guests to dig for fossils! While you might not find any dinosaur bones here, you'll likely find some fossils from ancient plants or fish species.
What are the most unique attractions in Idaho?
You can practically throw a stone and find unique attractions in Idaho, it is such an incredibly diverse state. But we've gone a step further and have broken down these attractions into different categories. For instance, you can learn all about 9 of the weirdest most unusual attractions in Idaho here. Or, you can read more about these 11 mysterious attractions in Idaho here. For those who want to add a bit of natural beauty into the mix, these 12 unique natural attractions in Idaho are worth exploring, too.