7 Scenic Drives In Idaho That Are Downright Magical In The Fall
Feel like going for a drive? There is no shortage of scenic drives in Idaho boasting spectacular views of mountains, valleys, canyons, forests, and whatever else you could imagine. Never is it a bad time to fuel up and explore one of the Gem State's beautiful backcountry highways, but we'd argue that the fall season may be the best time. During this transition from summer to winter, our state takes on some amazing landscapes as the foliage shifts colors. See the best of them with these 7 fall scenic drives that are bound to impress!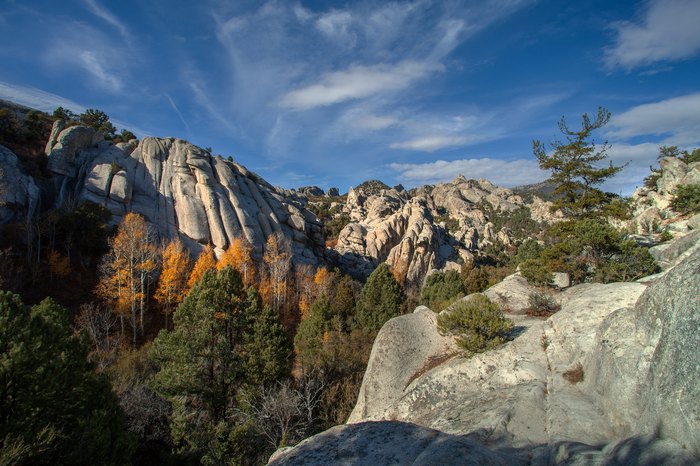 Are you ready for fall's beauty? These scenic drives are the perfect way to explore Idaho's autumn scenery! Which of these will you be hitting up first this year? Let us know down below!
Address: Sawtooth National Forest, Idaho 75, Stanley, ID 83278, USA
Address: Old Oregon Road, Old Oregon Rd, Idaho 83276, USA
Address: Teton Scenic Byway, 6535 ID-33, Tetonia, ID 83452, USA
Address: Kootenai National Wildlife Refuge, 287 West Side Rd, Bonners Ferry, ID 83805, USA
Address: City of Rocks National Reserve, Almo, ID 83312, USA
Address: Snake River Canyon, Idaho 83549, USA
Address: Payette River Scenic Byway, Smiths Ferry, ID 83611, USA
Idaho In The Fall
September 08, 2022
What Are Some Places To Visit In Idaho In The Fall?
For many people, fall means pumpkin patches, corn mazes, and enjoying the slightly cooler temperatures while the leaves are bursting with bright colors. One unique way to take in the fall foliage in Idaho is with a visit to Deadwood Outfitters in Central Idaho for a guided horseback trail ride. You may also want to plan a visit to one of these campgrounds in Idaho to truly experience the Gem State's beauty in the fall. Nestled into Idaho's mountainsides you'll often find a charming small town. Fall is the perfect time to plan a visit to any of these quaint mountain towns.
Where Are Some Of The Best Places To See Fall Foliage In Idaho?
From the mountain tops to the river valleys, Idaho has some of the most gorgeous natural landscapes. Fall is the perfect time of year to show off nature's beauty as the leaves change from green to bright reds, oranges, and yellows. We have chosen several state parks you'll want to consider checking out to take in the picturesque fall foliage in Idaho. Stay outside and enjoy this fall foliage hike or any of the other nearby trails in the charming area of City Creek. If you're feeling adventurous you can plan an entire fall foliage road trip to see all the autumn beauty throughout the Gem State.
What Are Some Scenic Drives In Idaho?
Sometimes the easiest way to take in a state's natural beauty is by taking a scenic drive. Idaho has plenty of options for routes that guarantee to take your breath away. Winding through central Idaho is the most diverse scenic drive you can imagine, the Peaks to Craters Scenic Byway. There's no shortage of backroads you can take on the best scenic drives in Idaho. If you find yourself in Northern Idaho, be sure to make time for this 33-mile scenic drive.
Address: Sawtooth National Forest, Idaho 75, Stanley, ID 83278, USA
Address: Old Oregon Road, Old Oregon Rd, Idaho 83276, USA
Address: Teton Scenic Byway, 6535 ID-33, Tetonia, ID 83452, USA
Address: Kootenai National Wildlife Refuge, 287 West Side Rd, Bonners Ferry, ID 83805, USA
Address: City of Rocks National Reserve, Almo, ID 83312, USA
Address: Snake River Canyon, Idaho 83549, USA
Address: Payette River Scenic Byway, Smiths Ferry, ID 83611, USA