The Winter Walk In Hawaii That Will Positively Enchant You
When you think of a traditional holiday season, the Hawaiian Islands are probably the last place to cross your mind. But, if we're being honest, we absolutely LOVE spending Christmas in Hawaii. Instead of snowstorms and cold weather, we have beach days — and you'll still find all of your holiday favorites, from hot chocolate and sugar cookies to twinkling lights and holiday festivals. And, boy, do we know how to throw a holiday celebration. The Honolulu City Lights is not only the largest display of Honolulu Christmas lights found across the state but it is also quite a magical affair. The best part? You won't have to bundle up to enjoy this incredible winter walk like our friends on the mainland might. And that's definitely something to celebrate.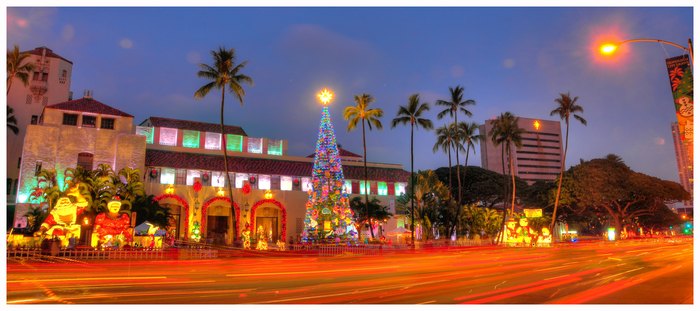 The Honolulu City Lights will stay lit throughout the holiday season, so you have plenty of time to enjoy this magical Christmas attraction. It's sure to fill you with holiday spirit. The light display is always free and open to Hawaii residents and tourists alike. For more information on exact dates and times as well as all the festivities, be sure to check out the Honolulu Christmas lights website. Will you be headed to Honolulu Hale for opening night, or will you wait a little longer in order to catch the beauty without the crowds?
Let us know in the comments below!
Remember, it's not truly Christmas in Hawaii until you do these 11 things. So check it out and let us know what you think!
Address: Honolulu, HI, USA
OnlyInYourState may earn compensation through affiliate links in this article.
Honolulu City Lights
November 22, 2021
Are there many places to see holiday lights on the island of Oahu?
Oahu has dozens of beautiful holiday light displays, with many located right in Honolulu. The Polynesian Center offers a dazzling display of lights, as well as Grand Wailea and Kailua Christmas Lights. There are so many places to go, you'll have to visit one each night in December!
Is Honolulu City Lights the biggest light display in Hawaii?
It's certainly one of the busiest! This event is one of the most anticipated holiday events of the year and everyone looks forward to going each and every year.
Address: Honolulu, HI, USA
OnlyInYourState may earn compensation through affiliate links in this article.