The Ultimate Oahu Road Trip Is Right Here — And You'll Definitely Want To Do It.
Oahu, the most populated island in Hawaii and home to the state's capital, is full of magnificent beaches, lookout points, attractions, hiking, and restaurants. Whether you've lived on Oahu your entire life and just want to find a new way to spend a Saturday, are visiting from a neighboring island, or are headed to Hawaii for vacation, we've created the ultimate Oahu road trip.
This road trip is approximately 115 miles, and at just under four hours of drive time is easily completed in one day. We've included a link to the Google Map here, and if desired, the road trip can be customized to your particular interests. Though we've started and ended this road trip at Waikiki Beach, you can obviously start from any one of these points, depending on where you live or are staying while on vacation. Don't forget to pack up your car with the essentials: swimsuits, towels, a camera, and a stellar road trip mix.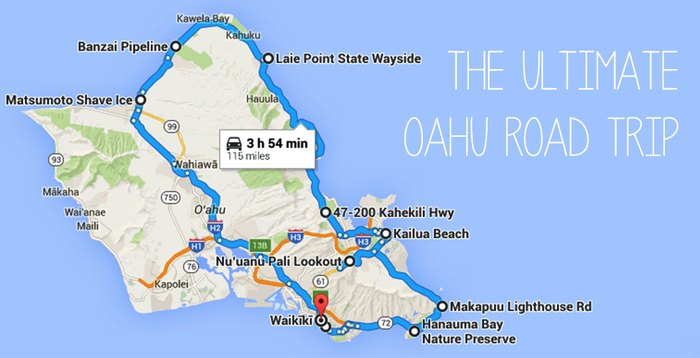 And if you have some extra time, consider ending your day at the famous Dole Plantation. Raise your hand if you're ready for an amazing road trip around Oahu! What stops would you add to this road trip if you could? Perhaps your favorite beach or snack shop? Sound off in the comments below!
OnlyInYourState may earn compensation through affiliate links in this article.
Address: Waik?k? Beach, Waikiki, Honolulu, HI 96815, USA
Address: Hanauma Bay Nature Preserve, 100 Hanauma Bay Rd, Honolulu, HI 96825, USA
Address: Waimanalo, HI 96795, USA
Address: Nuuanu Pali Dr, Kaneohe, HI 96744, USA
Address: Kailua Beach, Kailua, HI 96734, USA
Address: The Byodo-In Temple, 47-200 Kahekili Hwy, Kaneohe, HI 96744, USA
Address: End of Naupaka Street, HI-83, Laie, HI 96762, USA
Address: 59-473 Ke Waena Rd, Haleiwa, HI 96712, USA
Address: Matsumoto Shave Ice, 66-111 Kamehameha Hwy #605, Haleiwa, HI 96712, USA
Oahu: The Gathering Place
May 04, 2020
What is the island of Oahu known for? 
The Hawaiian Island of Oahu is not only home to the state's capital city of Honolulu, but 950,000 residents (out of 1.41 million residents state-wide) as well as some of the islands' most famous historic sites, beaches, and restaurants. Measuring in at just under 600 square miles, the island's most popular destinations include Waikiki, Diamond Head, Pearl Harbor, the charming towns of Kailua and Haleiwa, and some mighty gorgeous beaches, mountains, and waterfalls.
Where can you find the best views on Oahu? 
Oahu is home to countless incredible views and lookout points found both near easily accessible parking lots on the side of the road and via tough hiking trails through the mountains. My personal favorites include Pu'u O Mahuka Heiau, an ancient Hawaiian temple overlooking Waimea Valley and Bay on Oahu's north shore, the Lanai Lookout, and the summit of Pu'u O Hulu Kai — a pillbox trail on the leeward coast. One of my favorite — and underrated — hiking views is found along the Aiea Loop Trail.
What are Oahu's most impressive historic sites? 
If you love history, Oahu is the perfect place to visit. Not only is this gorgeous island home to the only royal palace on United States soil - Iolani Palace, but you can immerse yourself in the history of one of the most tragic events in U.S. history at the many Pearl Harbor Historic Sites, including the USS Arizona Memorial and the USS Battleship Missouri. You can even take this road trip across Oahu to discover some of the most fascinating historic sites in Hawaii.