We Dare You To Take This Road Trip To Oahu's Most Abandoned Places
When people move on and industry crumbles, the remains are often abandoned amid the landscape — and the Hawaiian Islands are no exception. Even on the highly populated island of Oahu, abandoned places are common — if you know where to look, that is. From abandoned highways and royal residences to sugar mills and telegraph stations, there is something strangely beautiful about man-made structures being taken back by the land. That's why we created this Oahu road trip to eight of the most famous abandoned places in Hawaii — clocking in at just under three hours and 84 miles from the picturesque north shore to Ewa. Gas up the car and get ready for a spooky adventure!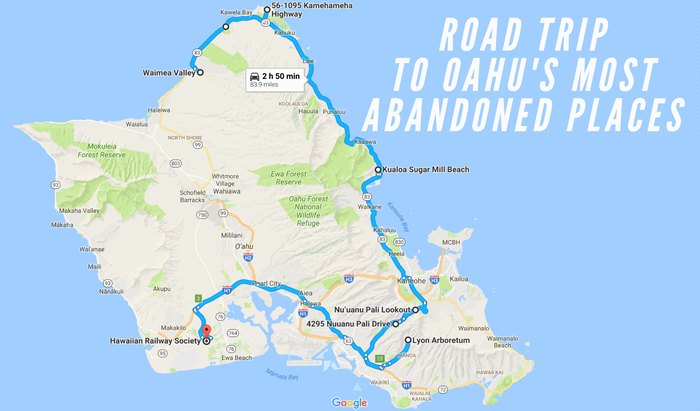 Have you ever been to any of these abandoned places in Hawaii? Share your experiences and opinions with us in the comments below, then — if you enjoy reading about all things spooky — click here to discover 13 Horribly Creepy Things You Didn't Know You Could Do In Hawaii.
Looking for more great Oahu road trips? Check out this ultimate road trip I take all of our visitors on, this incredible waterfalls road trip, or this terrifying road trip to the island's most haunted places.
Address: 59-864 Kamehameha Hwy, Haleiwa, HI 96712, USA
Address: Waialee Beach, Pupukea, HI 96712, USA
Address: Kualoa Sugar Mill Beach, Kahaluu, HI 96744, USA
Address: Nuuanu Pali Dr, Kaneohe, HI 96744, USA
Address: Lulumahu Trail, Honolulu, HI 96817, USA
Address: Lyon Arboretum, 3860 Manoa Rd, Honolulu, HI 96822, USA
Address: Hawaiian Railway Society, 91-1001 Renton Rd, Ewa Beach, HI 96706, USA
Creepy Places In Hawaii
May 26, 2020
What are some of the most fascinating abandoned spots in Hawaii?
Despite its small size, the Hawaiian Islands are home to some mighty unique abandoned spots. While there are many spots we would consider to be extremely remote — like the abandoned airstrip on Tern Atoll — there are others that are found in highly populated areas of the islands — like the abandoned zoo in Manoa Valley or the entire neighborhood on Hickam Air Force Base that was abandoned mysteriously.
What are Hawaii's most haunted spots? 
From a high school haunted by a crying girl to roads, hotels, and buildings with some supernatural residents, the Aloha State is home to various ghosts that have decided to make the islands their permanent home in the afterlife, but nowhere is considered more haunted than the notoriously spooky Kaimuki House, where a man-eating ghost from Japanese folklore is said to live. The haunting has been well-documented over the years and is quite the tale.
What are the creepiest places in Hawaii? 
Whether you believe in ghosts or not, it's hard to deny the spooky energy felt at various historic sites across the islands of Hawaii — like Mo'okini Luakini Heiau, which was one of the first temples to be built on the island and has an evil history rife with human sacrifice. If you're looking for the most unique Halloween attraction in Hawaii, you'll want to check out Hawaii Plantation Village, which is not only the site for one of Oahu's most popular October destinations but is rumored to be legitimately haunted.
Address: 59-864 Kamehameha Hwy, Haleiwa, HI 96712, USA
Address: Waialee Beach, Pupukea, HI 96712, USA
Address: Kualoa Sugar Mill Beach, Kahaluu, HI 96744, USA
Address: Nuuanu Pali Dr, Kaneohe, HI 96744, USA
Address: Lulumahu Trail, Honolulu, HI 96817, USA
Address: Lyon Arboretum, 3860 Manoa Rd, Honolulu, HI 96822, USA
Address: Hawaiian Railway Society, 91-1001 Renton Rd, Ewa Beach, HI 96706, USA