Hawaii's Weeping Wall Is The Most Majestic Waterfall You'll Ever See
Hawaii is undoubtedly a magical land full of unsurpassed natural beauty, and some of the most breathtaking waterfalls in the world. And while we love Hawaii Islands Akaka Falls, and the two waterfalls found on Maui's Pipiwai Trail as much as the next person, there is one waterfall that stands out in a crowd – or rather, is the crowd. Deep in the heart of Kauai is the epic Weeping Wall in Hawaii, a collection of stunning waterfalls cascading down the towering, verdant cliffs of Mount Waialeale, one of the wettest spots on earth. The Weeping Wall in Kauai hike is quite dangerous and treacherous, but there are several helicopter tours available that will allow you to safely catch a glimpse of this natural wonder.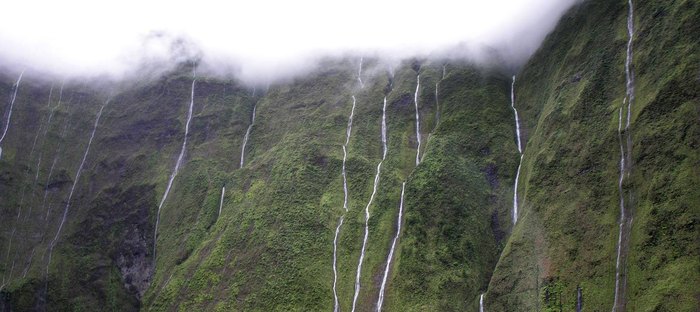 Still not 100 percent sure that the Weeping Wall in Kauai is the coolest waterfall ever? This incredible footage, uploaded by Vimeo user Hawaii Revealed, just may convince you:
What is your favorite Hawaiian waterfall? Is it one you can hike to, or do you need to charter a helicopter to experience it in person? Share your thoughts with us in the comments!
OnlyInYourState may earn compensation through affiliate links in this article.
More to Explore
weeping wall in hawaii
What is the tallest Hawaii waterfall?
Measuring in at a whopping 2,953 feet tall, Oloupena Falls is not only the tallest Hawaii waterfall but is also considered to be the fourth tallest waterfall in the entire world. It's tucked away on the remote northern coast of Molokai, flows seasonally, and is only visible from the ocean or the air.
Which Hawaiian Island has the most waterfalls? 
While each of the main Hawaiian Islands are home to cascading waterfalls, there is perhaps nowhere will you find a greater selection of easy-to-find falls than off Maui's notorious Hana Highway. In fact, we even created a waterfall road trip that meanders down this well-known highway and stops at nine waterfalls in just 44 miles. And who knows, you may just spot another waterfall or two along the way worthy of pulling over for. Don't forget your camera!
What are the best waterfall hikes in Hawaii? 
It's true that while you'll find several Hawaii waterfalls hiding in plain sight — no hiking required — there are even more that are found off-the-beaten-path and only accessible via hiking trails. The trail to Hawaii Island's famous 442-foot Akaka Falls is short and sweet, and though short in stature, Waimea Falls on the island of Oahu is not only tucked away in a picturesque botanical garden but you can actually swim there. We're also secretly obsessed with Kauai's Uluwehi Falls, which requires not only a hike but a kayak excursion as well.
Related Articles
Explore Hawaii
Featured Addresses

Mount Waialeale, Hawaii, USA