Sleepy Hollow In Georgia Was Named One Of The Most Stunning Lesser-Known Places In The U.S.
Sleepy Hollow in Blairsville, Georgia is one of the most stunning, enchanting gardens in the entire state. As a lesser-known attraction within Georgia, there aren't too many visitors that will seek out this whimsical garden on their vacation. But for those who know it exists, it truly is a magical experience. The next time you have an afternoon to spend, where you can disappear into an alternate world, we recommend visiting Sleepy Hollow in Georgia. Take a look…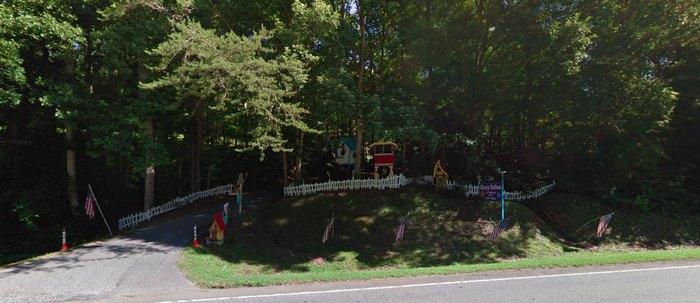 Have you ever been to Sleepy Hollow in Georgia before? Share with us your experience in the comments section! Or if you're looking for more information about when to visit and where to visit, check out the Sleepy Hollow website or Facebook page.
Address: Sleepy Hollow Enterprises, 5279 GA-515 E, Blairsville, GA 30512, USA
Sleepy Hollow In Georgia
October 18, 2020
What places in Georgia should I see before I die?
If you're going to make a list of the places you need to visit in Georgia before you die, then you'll have quite a long list. Georgia attractions are some of the best in the country, overflowing with history and beauty. Tallulah Gorge State Park, for example, is one of the prettiest places in Georgia and is a must-visit. Brasstown Bald, too, is another place to see as the highest point within the state. Check out this more thorough list of the most imaginably beautiful places in Georgia to see before you die.
What are the best day trips in Georgia?
Some of the most beautiful places in Georgia to explore can be enjoyed by taking a day trip throughout the state. While Georgia is quite big in size, you can still make it from the forests to the coast in one afternoon. Depending on the season you're in, we have a few day trips to accommodate. For instance, these 12 picture-perfect fall day trips are filled with autumn fun. Meanwhile, you can also enjoy these 13 summer day trips in Georgia, too. But if you aren't seasonally specific, then these 12 best day trips can be enjoyed any time of year.
What are the most unique parks in Georgia?
Out of all the unique places in Georgia to visit, the parks are often some of the most beautiful. Georgia has nearly 50 different state parks within its lines, some with towering waterfalls and others with impressive mountain views. But also, there are a few parks that are outside the state system, like this incredible dinosaur park. You can also enjoy these 11 under-appreciated state parks in Georgia that might not be overcrowded with tourists. Also, this exciting animal safari park is family-fun at its finest.
Address: Sleepy Hollow Enterprises, 5279 GA-515 E, Blairsville, GA 30512, USA