Spend The Night At Georgia's Most Haunted Campground For A Truly Terrifying Experience
Are you the type of person who loves a good thrill? If so, then we have the experience for you! Spending the night at the most haunted campground in Georgia isn't for the faint of heart, especially once the sun sets. First, the noises start from deep inside the woods, and then the fire begins to die down. Eventually, you're in complete darkness in the middle of the woods, accompanied by the ghosts that haunt the park for fun. For lovers of the spooky and macabre, that may sound like a dream instead of a nightmare. If so, we've got a haunted camping experience at Camp Rutledge in one of Georgia's most haunted state parks. If you love haunted places in Georgia, this is a must-visit place!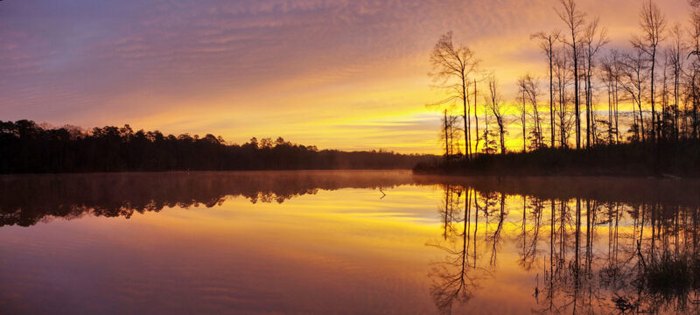 Although many people have debated the validity of whether the campground is truly haunted or not, a few witnesses have come forward to share their tales of terror. One man and his friend were outside the cabin they'd reserved and heard "something large" (much larger than an animal) running through and randomly stopping in the woods. Another witness claimed that, after stumbling across a small graveyard inside the camp with only three dilapidated headstones, he saw the figure of a small boy looming behind a tree, watching him.
In fact, Camp Rutledge was even examined by the famed TV show Ghost Hunters to see if the camp and the nearby forest were indeed haunted and filled with all types of paranormal spirits.
What do you think? Could Camp Rutledge be as haunted as some people think? Maybe it's because the neighboring camp, camp Daniel Morgan, was the filming location for Friday the 13th: Jason Lives! …okay, maybe not, but still – that's pretty creepy in and of itself!
The truth is, the only way you'll find out if Camp Rutledge is truly the most haunted campground in Georgia is to experience it for yourself! Spend the night (or the whole weekend, if you're feeling brave enough) and document your stay! We'd love to hear what your haunted camping experience is like.
Have you ever stayed at Hard Labor Creek State Park or any other haunted state parks? What was your experience like? Share your thoughts in the comments!
OnlyInYourState may earn compensation through affiliate links in this article. As an Amazon Associate, we earn from qualifying purchases.
More to Explore
Haunted Campground in Georgia
Is the Hard Labor Creek State Park in Georgia haunted?
Well, that depends on who you ask, really. Plenty of resources won't even mention the alleged hauntings happening on the grounds, despite the fact that a world-famous ghost-hunting organization from a popular television show investigated the park in recent years. The history behind the park is bloody, and one of the lakes within the park's boundaries is named after a family that was killed by Native Americans in 1813. The park embraces the rumors of something spooky going on, as they have super-fun "ghost stories around the campfire" events throughout the year.
What are some good state park campgrounds in Georgia?
The good news is: there are over 2,700 campsites scattered across 41 different state parks in beautiful Georgia! The better news is: they're all great in their own ways, and you get to take your pick from any one of them! Campsites range from primitive (no electricity, no water, etc - just the bare-bones of what you'll need to have a camping adventure) to deluxe, with sewage hookups and electricity.
What are good Georgia camping sites?
There are tons of 'em, so get ready for plenty of adventures throughout the year! For example, if waterfalls are your passion, you can't miss a stay at Raven Cliff Falls Campground. It's very highly rated and easily a local favorite, for obvious reasons: it's stunningly beautiful! Tallulah Gorge State Park is awesome if you're hoping for more of a hiking-in-a-legitimately-awesome-gorge kind of experience. Victoria Bryant State Park offers up awesome creek views, and it's definitely worth a day trip with the whole family. Luckily for us, there's something for everyone in Georgia's seemingly endless campsites.
Related Articles
Explore Georgia
Featured Addresses

Hard Labor Creek State Park, 5 Hard Labor Creek Rd, Rutledge, GA 30663, USA