The Ultimate Central Florida Road Trip Is Right Here And It's A Blast
Millions of people flock to the middle of The Sunshine State each year, but many don't realize the incredible amount of things to do in central Florida. The center of our state has some of the best attractions Florida has to offer. Our state is pretty large, so this trip will take about 9-10 hours of driving time, and of course much longer if you stop at all of the attractions and explore. It's up to you how many of the attractions you want to visit and how long you want to stay at each one, which will determine how many days the trip will take. There are several must-sees (marked with a purple dot), as well as several bonus attractions (marked with a pink diamond), so you can customize your road trip to your own interests. There are plenty of cities along the route that should have reasonably-priced hotels, but you can always find more state parks (that offer camping or cabins) along the way to save money.
Now for an outline of our trip. We'll start from De Leon Springs State Park and head west around this circle: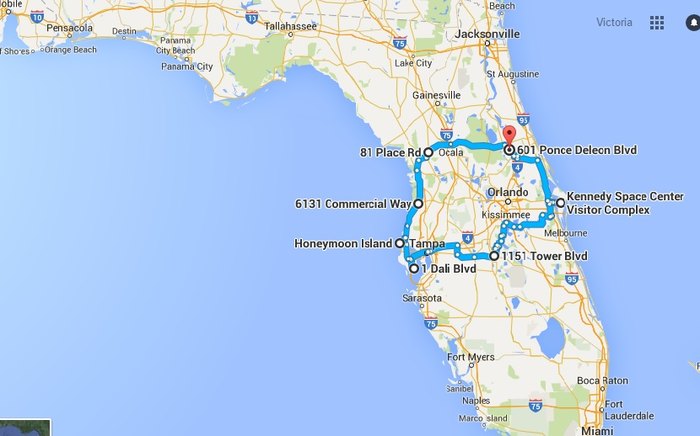 Well, there you have it, folks. This trip should provide you with plenty of incredible experiences and great stories to last a lifetime. How many of these things to do in central Florida will you add to your bucket list? What stops would you add to this trip? What's your favorite Florida road trip? Please share your comments with us below!
OnlyInYourState may earn compensation through affiliate links in this article.
Address: 1151 Tower Blvd, Lake Wales, FL 33853
Address: 2100 W French Ave, Orange City, FL 32763
Address: 1 Dali Blvd, St. Petersburg, FL 33701
Address: 6131 Commercial Way, Spring Hill, FL 34606
Address: 81 Place Rd, Dunnellon, FL 34432
Address: 601 Ponce Deleon Blvd, De Leon Springs, FL 32130
Address: Tarpon Springs, FL, USA
Address: Honeymoon Island, Dunedin, FL 34698, USA
Address: 5th St, Lake Wales, FL 33853, USA
Things To Do In Central Florida
August 30, 2020
What are the best outdoor activities in Florida?
There are so many fun things to do in Florida outdoors, you won't even know where to begin. Outdoor activities in Florida are aplenty, whether you're searching for seashells on the beach or hiking through the Everglades. If you want a more comprehensive list of the most epic outdoorsy things to do in Florida, check out these 13 things.
What places in Florida should I see before I die?
You can take a Florida road trip through some of the most incredible attractions around. We offer quite a few different options for comprehensive road trips in the state, many of which show you the best and brightest attractions. Out of all the places to see before you die, we recommend perusing through these unforgettable Florida road trips.
What food trails can I take in Florida?
If you prefer your Florida attractions to revolve around food, don't worry, we have plenty to pick from. In fact, we have a few food trails in particular that are worthy of a trek. For instance, this ice cream trail in Florida will satisfy any sweet tooth. Meanwhile, Florida also has an amazing taco trail to travel along as well.