A Terrifying Tour Of This Haunted Jail In Florida Is Not For The Weak
Halloween is just around the corner, and we're on the hunt for the haunted places. The nation's oldest city, St. Augustine, is famous for its ghost stories, and one of the most haunted places in St. Augustine is the Old Jail. There's a daytime tour that gives the history of this landmark, but the truly brave can take the nighttime ghost tour.
The Old Jail Museum stands at 167 San Marco Avenue. It was built in 1891 as the St. Johns County Jail and added to the National Register of Historic Places in 1987.
The jail had space for 72 prisoners, including a maximum security area with a death row cell. Eight men were hanged during the jail's operation. Conditions were poor by today's standards, with mandatory labor, violence, disease, and death. The jail remained in operation until 1953, when a newer facility was constructed. It was then operated as a roadside attraction.
After more than 60 years of operation, especially because of the deaths that occurred here, it makes sense that there would be a few restless spirits haunting the grounds. Visitors report hearing footsteps, capturing orbs and strange lights, and feeling inexplicable cold spots when walking through the jail. The most well-known spirit here is the towering, shadowy figure of Sheriff CJ Perry. The jail had a two-story wing with an office and living area for the residing sheriff and his family.
Daytime tours can be booked through the Old Jail Museum or the standard Old Town Trolley tours. For the spookier nighttime tours, you'll have to get a ticket for the Old Town Trolley's Ghosts and Gravestones tour.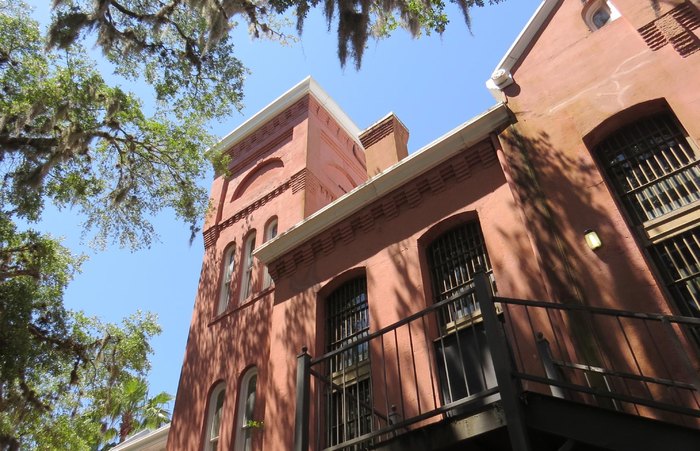 Are you brave enough to take an evening tour of the Old Jail? How about one of these 14 Most Haunted Places In Florida?
OnlyInYourState may earn compensation through affiliate links in this article.