This One Easy Hike In Florida Will Lead You Someplace Unforgettable
When you explore Florida, you expect certain natural wonders, like beautiful beaches and impressive natural springs. One thing you don't expect is a river with whitewater rapids. This short hike in White Springs, however, will take you to a sight you probably didn't even know you could see in Florida. Big Shoals State Park is the only place you can experience Class III whitewater rapids in the state of Florida.
The Big Shoals rapids are part of the blackwater Suwannee River, so the rapids have the appearance of foamy rootbeer bubbling over the rocks. The rapids are not always at their full potential, but when they are, the area is popular for thrill-seeking kayakers. You don't have to be an expert kayaker to enjoy the rapids, though. Just having the opportunity to take in this impressive scenery is worth a trip to Big Shoals State Park. If you're an avid hiker, there are 28 miles of trails to walk in the park. If you're new to hiking, don't worry. It's only a short hike (a little over a mile) to the rapids from the Big Shoals parking area via the Yellow Blaze trail. It only takes a couple of hours to fully enjoy this trail, while stopping for lots of photos and maybe even a picnic when you return.
Hikers and bicyclists looking for a longer trail can take the Woodpecker Trail from Little Shoals to Big Shoals, spotting all kinds of native wildlife along the 3.4-mile paved trail. Gopher tortoises, white-tailed deer and wading birds are among the wildlife often on the trails.
Enjoy a day of fishing or bird-watching along the Suwannee, and stay until evening falls to watch the bats fly from the bathouse at the park's entrance. Remember to bring plenty of mosquito repellent (a good rule for hiking in Florida), and well-behaved dogs are also allowed. There is no camping at this park, and it's open from 8:00 a.m. to sundown, every day of the year. Admission is $4 per carload.
Check out some beautiful photos from the park below: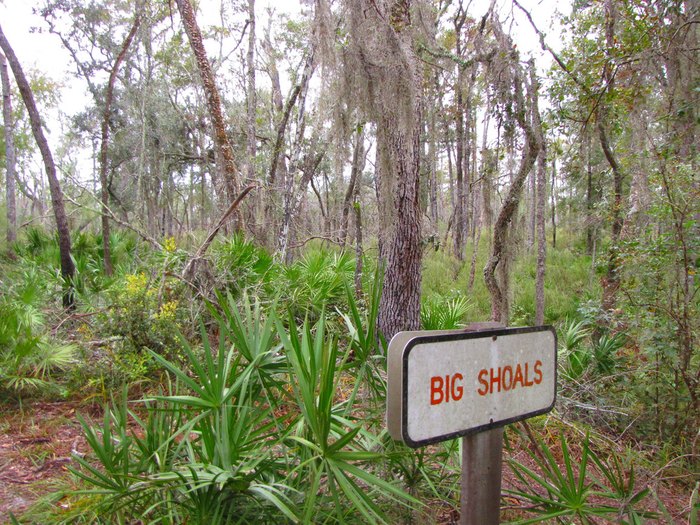 Though the rapids are beautiful from the ground, perhaps the most impressive view of the park is from the sky:
Have you ever visited this park? Looking for more hikes? Check out our list of 16 Epic Hiking Spots In Florida.
OnlyInYourState may earn compensation through affiliate links in this article.