The Hidden Beaches Road Trip That Will Show You Connecticut Like Never Before
The beach scene in Connecticut is mostly calm. Since most of them fall on the Long Island Sound, they lack waves, which means you'll see more boats than surfers on most days. But nonetheless, we love the beaches in Connecticut, and for good reason: the water is nice and cool, you can easily discover (and touch) sea creatures, and the views are unparalleled. So naturally, we had to create this road trip to the best hidden beaches in Connecticut.
With this easy, 100-mile road trip you can explore the Gold Coast and beyond in a little over two hours. But you'll definitely want to drag this one out and take the time to appreciate each beach. Grab the beach ball and sunscreen for this awesome trip and prepare to have fun! You can access the interactive map for this road trip on Google Maps.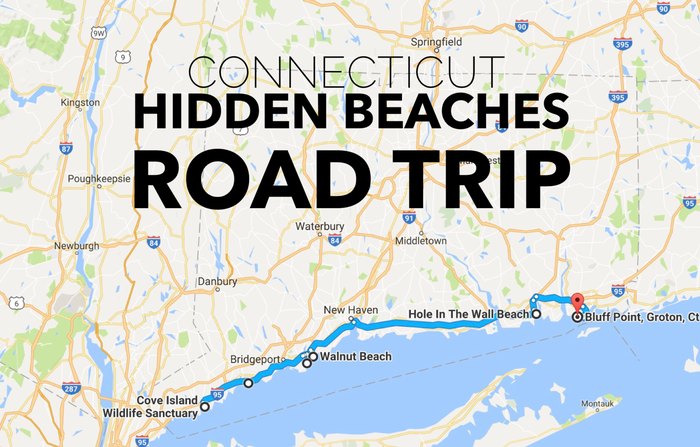 It's hard to visit all of the best beaches in Connecticut in a single day. If you had to add your favorite to this list, which one would it be? For another unforgettable ride, try out this captivating Waterfall Road Trip in Connecticut. These cascading gems are simply… gorges – get it?
OnlyInYourState may earn compensation through affiliate links in this article.
More to Explore
Hidden Beaches In Connecticut
What are the prettiest beaches in Connecticut?
Silver Sands State Park, Milford Point, and Walnut Beach in Milford are considered some of the best beaches in Connecticut because of their awe-inspiring beauty. Discover soft white sand leading up to the water and lovely stretches of scenic boardwalk to stroll. The best family beach, but still a pretty gem, is Hole-In-The-Wall Beach in Niantic with its gentle slope into the water and calm waves. If your kids are older, Ocean Park Beach in New London has it all. Plenty of entertainment plus the bonus of views that stretch for miles. Enjoy the rolling surf of the Atlantic alongside a popular boardwalk. The park is also outfitted with a waterpark, Olympic-sized pool, amusement rides, miniature golf, and more.
What are the best beach towns in Connecticut?
From the Gold Coast to the Rhode Island border, Connecticut has beach towns galore. For that small town feel with a dose of nostalgic charm, check out the coastal locales of Old Saybrook and Stoney Creek. If you're looking for a little more hustle and bustle, the town of Westport will do the trick. And history buffs and nautical enthusiasts will need an entire day to explore the beach town of Mystic.
What beaches have the clearest water in Connecticut?
The more circulation you get in the Long Island Sound, the clearer the water is bound to be so if you want to see your toes when you take a dip, head to the western portion of the state. The Connecticut beaches with the clearest water are Ocean Park Beach, Dubois Beach, Rocky Neck Beach, and Harveys Beach.
Related Articles