The Ginormous Burritos From Illegal Pete's In Colorado Have A Cult Following, And There's A Reason Why
Cult followings (or fans who are incredibly dedicated to something or someone) is a high form of flattery when it comes to a business, with only certain ones earning such a prestigious accolade! When it comes to the best burritos in Colorado that have a ride-or-die following such as this, there is one place, in particular, that comes to mind, which is the downright delicious Illegal Pete's: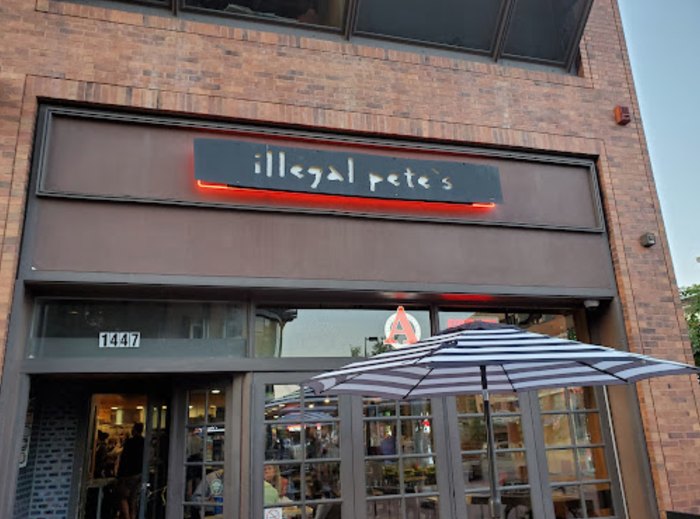 Do you have a favorite restaurant, attraction, or event that you would like to see featured here on Only in Colorado? Nominate it here! After devouring your burrito, you will want to check out You Will Never Forget Your First Visit To The One-Of-A-Kind Inventing Room Dessert Shop In Colorado.
OnlyInYourState may earn compensation through affiliate links in this article.
Address: Illegal Pete's - Colfax, 2001 E Colfax Ave, Denver, CO 80206, USA
Address: Illegal Pete's Lodo, 1610 16th St Mall, Denver, CO 80202, USA
Address: Illegal Pete's Northside, 1851 W 38th Ave, Denver, CO 80211, USA
Address: Illegal Pete's - South Broadway, 270 S Broadway, Denver, CO 80209, USA
Address: Illegal Pete's - Park Hill, 2230 Oneida St, Denver, CO 80207, USA
Address: Illegal Pete's - Pearl, 1447 Pearl St, Boulder, CO 80302, USA
Address: Illegal Pete's on The Hill, 1124 13th St, Boulder, CO 80302, USA
Address: Illegal Pete's - DTC, 5312 DTC Blvd, Greenwood Village, CO 80111, USA
Address: Illegal Pete's - Fort Collins, 320 Walnut St, Fort Collins, CO 80524, USA