Only In Colorado: The Definitive Guide To What You Should Do This Memorial Day
Is anyone else having a hard time believing that Memorial Day is next weekend?! Have you made any special plans for your Saturday, Sunday, and Monday? Instead of traveling on busy interstates or fighting the crowds at DIA, why don't you just relax and enjoy your weekend at home? From beer tastings to parades to special openings, Memorial Day weekend in Colorado offers something for everyone! Here is a rundown of some of the events happening close to you!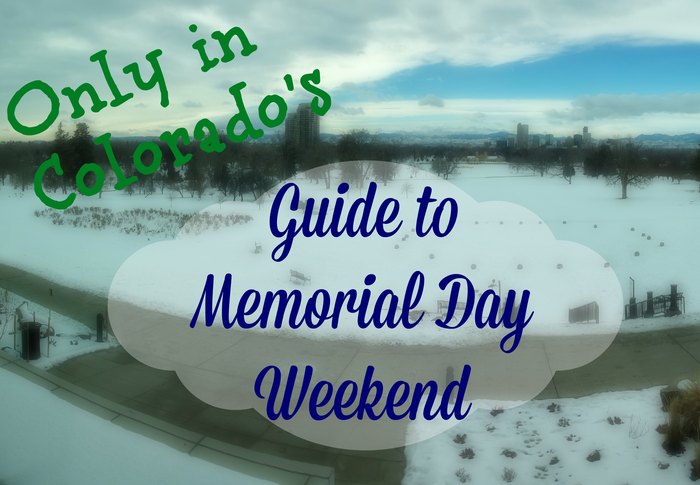 Alamosa
Memorial Day Encampment at Fort Garland
May 23rd-25th
Arapahoe Basin
Shakin' at the Basin May Concert Series – Wash Park
May 23rd
Festival of the Brewpubs
May 24th
Bennett
Bennett Community Market
May 23rd
Boulder
Farmer's Market
May 23rd
BolderBoulder
May 25th
Brush
2015 Sweney Cycle Memorial Weekend Challenge
May 23rd-25th
Buena Vista
Paddlefest
May 22nd-25th
Burlington
Kit Carson Carousel (Opening Weekend)
May 23rd
Canon City
Create Canon City Balloon Festival
May 23rd-25th
Castle Rock
Memorial Day Run & March
May 23rd
Colorado Springs
40th Annual Territory Days
May 23rd-25th
Plant Sale at Cheyenne Mountain Zoo
May 23rd-25th
American Muscle Car Show
May 23rd
Cortez
Indian Arts & Culture Festival
May 23rd & 24th
Craig
Grand Olde West Days
May 22nd-25th
Commerce City
Memorial Day Parade
May 25th
Denver
Day of Rock
May 23rd
Downtown Denver Arts Festival
May 22-24th
Comic Con
May 23rd-25th
Water World (Opening Weekend)
May 23rd-25th
Soul Food Festival
May 23rd
Deborah Butterfield: The Nature of Horses at the Botanic Gardens (Opening Weekend)
May 23rd-25th
Durango
Iron Horse Bicycle Classic
May 22nd-25th
Estes Park
Art Market
May 23rd-25th
Fort Collins
Realities Ride & Rally
May 23rd & 24th
Victory Day Dance
May 23rd
Grand Junction
Junior College Baseball World Championship
May 23rd-30th
Shrine Circus
May 22nd & 23rd
Grand Lake
Memorial Day Parade
May 25th
  Gunnison
Growler Weekend
May 22nd-24th
La Junta
Laying of Flags at Cemetery
May 23rd
Limon
Limon Heritage Museum (Opening Weekend)
May 23rd-25th
Longmont
Farmer's Market
May 23rd
Louisville
Boulder Creek Festival
May 22nd-25th
Ouray
HeidiTown Fest
May 23rd & 24th
Pueblo
Memorial Day Riverwalk
May 25th
Lake Pueblo (Opening Weekend)
May 23rd-25th
Salida
Bluegrass on the Arkansas
May 23rd & 24th
Steamboat Springs
Sidewalk Sale
May 22nd-25th
Tabernash
Memorial Day BBQ at Devil's Thumb Ranch
May 24th
Telluride
Mountainfilm
May 22nd-25th
No matter where you are in Colorado (Front Range, Plains, or Slope), there is something fun to do nearby this Memorial Day weekend! What are you most looking forward to?
OnlyInYourState may earn compensation through affiliate links in this article.