There's No Better Place To Be Than These 47 Hot Springs In Arkansas
It may seem overwhelming to hear that there are 47 hot springs in Arkansas. Luckily, they are all in one central location. Can anyone guess where these amazing springs are located? We'll wait…
You got it. Hot Springs National Park is located in central Arkansas, adjacent to Arkansas' famous resort town, Hot Springs. The water of the hot springs emerges from the ground at a toasty 143 degrees Fahrenheit.  Although there aren't any places within the park where visitors can get in the springs, Hot Springs has conveniently solved this problem with the historic Bathhouse Row.
Though we were unable to find pictures of all 47 springs, (and we also thought that much natural beauty might be too overwhelming,) we did find some truly amazing shots. Here are some of the best hot springs in Arkansas, in no particular order…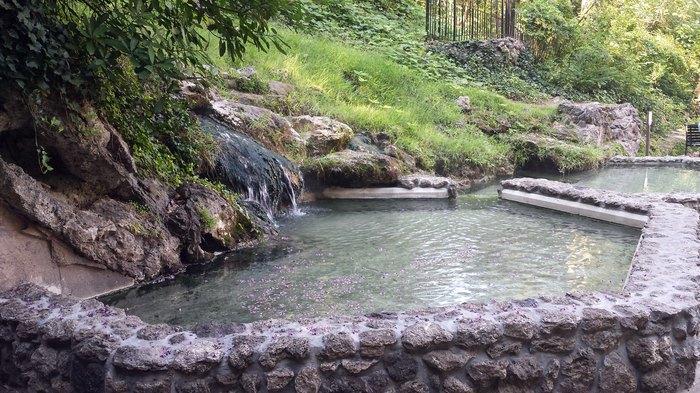 Looking for the best place to rejuvenate in Arkansas? Due to Arkansas's intense natural beauty and preferred slow pace, our state offers a number of places to recharge your batteries. Hot Springs, though, with its historic roots and natural hot springs, may just be the best place to go. We don't know about you, but if you need us, we'll be soaking in these best hot springs in Arkansas!
OnlyInYourState may earn compensation through affiliate links in this article.
Best Hot Springs in Arkansas
November 16, 2022
What else is there do to in Eureka Springs, Arkansas?
In addition to soaking in the best hot springs in Arkansas, history lovers have a lot to celebrate in this mountain town. With its iconic Victorian architecture and winding streets, you'd be hard-pressed to find a town as incredibly charming as this Natural State gem. The entire city of Eureka Springs is listed on the National Register of Historic Places, making this mountain town a favorite for historians, too. Of course, that's not to discount the outdoor recreation in this area; Eureka Springs has everything from zip lining, cave tours, and boat excursions to scenic hikes and adventures in the awe-inspiring Arkansas Ozarks.
Is Hot Springs National Park the oldest national park in the U.S.?
There's long been much debate about this question, so allow us to set the record straight: Hot Springs National Park is the oldest national park in the country, predating Yellowstone National Park by 40 years! And not only is it the oldest national park in the country, but Hot Springs National Park is widely considered one of the best. What really makes Hot Springs National Park stand out is its incredible blend of history, nature, and…hot springs! Thermal fountains and open springs are scattered throughout the park – and that's in addition to mountain views, amazing geology, forested hikes, and an array of creeks. History is just as abundant as natural beauty – and comes in the form of grand bathhouses from yesteryear, making this an all-around winner of a getaway for nature lovers, history buffs, and those seeking a little R&R!