Here Are The 14 Most Enchanting, Magical Christmas Towns In Arkansas
Y'all ready for things to get magical? Well, you're in luck, because Christmas magic is happening all over the Natural State right now. As you read this, Arkansas's Christmas towns are getting geared up to enchant you, and most are already totally ready to rock around the Christmas tree. Below you'll find a list of some of the best Christmas towns in Arkansas, and you'll want to check each of them off your holiday bucket list before the end of this most magical month of the year!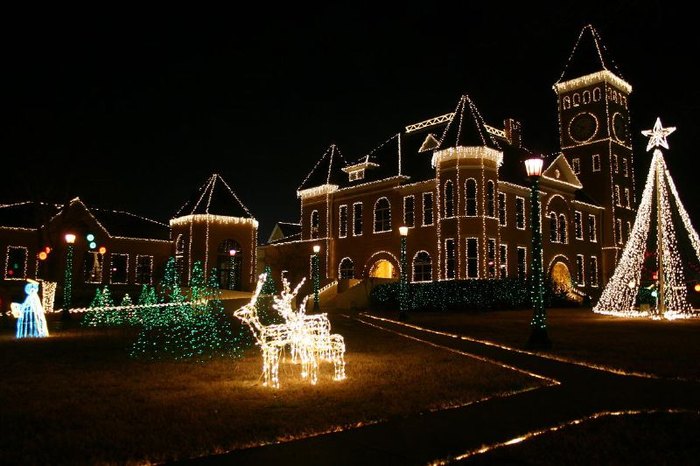 For holiday lights you can't miss, click here. Check out our Christmas towns list from last year, too!
What are your favorite Arkansas Christmas towns? Tell us all about it in the comments! We love hearing your stories.
OnlyInYourState may earn compensation through affiliate links in this article.
Best Christmas Towns in Arkansas
November 19, 2021
What are some fun things to do at Christmas in Arkansas?  
Arkansas is one of those states that truly loves its Christmas time! As a result, there is plenty to do and see all over this state for just about everyone. Arkansas has plentiful winter attractions even if Christmas isn't your thing – there is seriously so much going on that no matter who you are or what you celebrate, you're going to love this time of year. Some of the most popular things to do at Christmas in Arkansas include events like Christmas At The Park, in Jonesboro, the Searcy Trail of Holiday Lights, in Searcy, and the Gurdon Trail of Holiday Lights, too. In fact, many towns in Arkansas have their very own trails of lights, including Oakhaven, Beebe, Cotter, and many more. There are also things like taking the family for a drive to look at all the best Christmas lights, too, and if you'd like to do that, we've already done the footwork for you! Check this article out for the best-ever Christmas lights road trip in Arkansas.  
Where is the best place to spend Christmas in Arkansas?  
Well, "best" is subjective, so it's truly up to you! However, it's no secret that some towns do go above and beyond to be at their very best during the holidays, and it's a truly fun thing to visit these places year after year. Some of our favorite places to spend Christmas in Arkansas include amazing towns like Batesville and Fayetteville, both of which take their decorations and light displays to the next level. Eureka Springs is a holiday hotspot and it's really embraced this time of year as one of the best; plan on going ice skating in front of the Crescent Hotel and Spa. There are also towns like Ponca, Piggott, Conway, and even Paris – they all love getting in on the fun, and who could blame them? This time of year is sure a special one in the state of Arkansas.