This Haunted Road Trip Will Lead You To The Scariest Places In Arizona
It's time for another road trip! Get ready for a fright, because we're taking you to nine of the most haunted places in Arizona. From hotels you might never check out of to abandoned gold mines, these spots are crawling with things that go bump in the night. Happy haunting!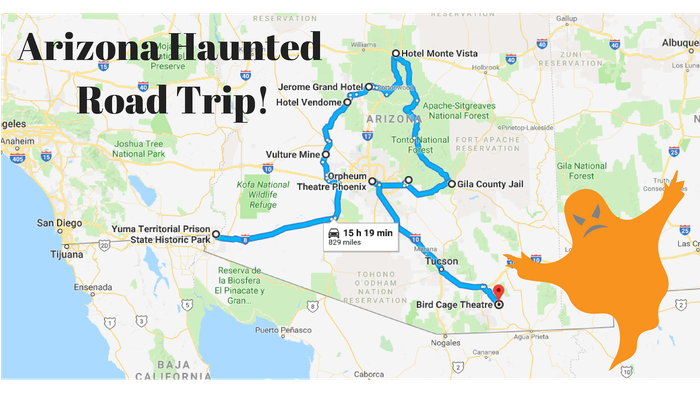 Are you brave enough to explore these real haunted places in Arizona? How many of the most haunted places in Arizona have you visited already, and what other spooky spots would you add to the list?
OnlyInYourState may earn compensation through affiliate links in this article.
More to Explore
Most Haunted Places In Arizona
What is the most famous ghost story from Arizona?
The most famous Arizona ghost story takes place at Colossal Cave in Tucson. Four ghosts haunt this ominous area. Guests have reported seeing a spectral lady in white guarding the entrance, a shadowy figure looming in the darkness, and the ghost of former cave owner Frank Schmidt joining a public tour. The most bone-chilling story, however, involves a mourning Native American woman. Legend has it, this woman fell to her death as she ran away from a bear chase. Her cries echo off the cave's walls to this day. 
What is the most haunted town in Arizona?
Wickenburg, Arizona is the most haunted town in the state. This tiny city only has 6,363 residents, but it's full of ghostly spirits. Henry Wickenburg settled this area in the mid 1800s in search of riches. He soon discovered the Vulture Mine and had great success mining silver and gold. Today, all that remains from this mine is a creepy dilapidated building. The spirits of perished miners often linger in the area. It's enough to give anyone nightmares. Enter if you dare!
What is the creepiest abandoned place in Arizona?
If you're aching for a spine-tingling adventure, visit the Casa Grande Domes. These mysterious abandoned bulidings look like something from a nightmare. Several rumors have circulated around these bizarre structures. Some say it's a hub for haunted happenings and others believe it's the site of a former cult. The real answer, however, is far less ominous. To learn more about these weird abandoned buildings, read our feature article here. These aren't the only abandoned spots in Arizona. You can learn more by clicking here.
Related Articles
Explore Arizona