This Haunting Road Trip Through Arizona Ghost Towns Is One You Won't Forget
If there's any state that could be considered the ghost town capital of the country, Arizona could easily win that argument. With more than 275 abandoned settlements of American origin, many of these places were frontier boom towns iconic of Arizona's Wild West heritage. Today, many ghost towns in Arizona still exist in various stages of decay and each year, a little bit fades away into the land.
If you've been meaning to take some time to explore these long-forgotten areas, you'll definitely want to take a trip on this special ghost town road trip in southeastern Arizona! On this trip, we'll be exploring 7 places often designated as ghost towns and some of the history behind each one. Refer to this custom Google map we created just for this road trip for directions and a few facts about each town.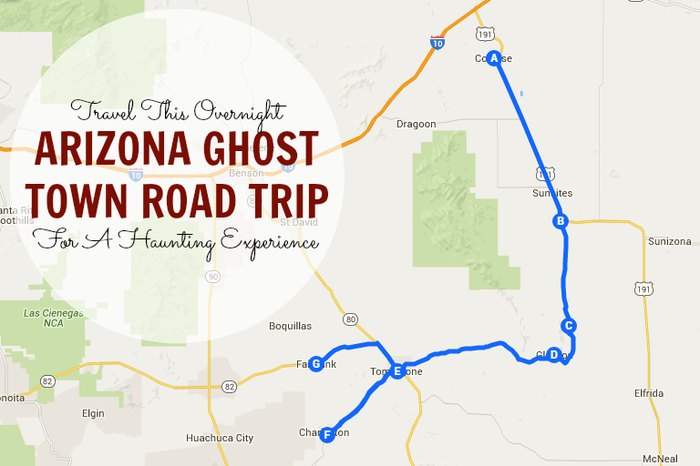 Sounds like quite a trip, doesn't it? If you want to explore other areas of the state through a road trip, be sure to check out some of our previous articles for ideas!
OnlyInYourState may earn compensation through affiliate links in this article.
Address: Cochise, AZ 85606, USA
Address: Pearce, AZ 85625, USA
Address: Courtland, AZ 85610, USA
Address: Gleeson, AZ 85610, USA
Address: Tombstone, AZ 85638, USA
Address: Charleston, AZ 85635, USA
Address: Fairbank, AZ 85616, USA
Ghost Towns In Arizona
May 16, 2020
What are the creepiest places in Arizona?
If you're feeling brave enough, you could check out some creepy places in Arizona. A visit to the Yuma Territorial Prison will give you the chance to explore an abandoned old west prison. Over a hundred prisoners died there due to disease, overheating, and overcrowding. According to some, it is haunted by these spirits. Walking around the empty cells can be chilling. Another spine-chilling spot in Arizona is the Hotel Monte Vista, which has a dozen ghosts hanging out within its walls. Would you dare to stay there yourself?
What is the most haunted place in Arizona?
With so many ghost towns, there are many supposedly haunted places in Arizona. According to legend, Bisbee might just be the most haunted place in the state. There are more than 5,000 people living in the town still, but there is an insane amount of paranormal activity that happens there. Businesses throughout the towns - hotels, restaurants, and more - have many stories of hauntings and the mining town's history is rife with tragedy. Many miners died there over the years when the mines were operational, so it is thought that their lingering spirits are the ones that haunt Bisbee.
Are there any urban legends in Arizona?
There are quite a few Arizona ghost stories that'll send chills right up your spine. While there are well-known urban legends like El Chupacabra or Mogollon Monster that might not make you bat an eye, but things like the Navajo legend of skinwalkers are truly terrifying. They're the kind of things that make you want to keep the light on at night, with their link to witchcraft and being incredibly dangerous to run into. A more somber and spooky urban legend in Arizona is that of La Llorona, otherwise known as the Weeping Woman. According to the story, she drowned her children after her husband cheated on her, and ended up deeply regretting it. Children are told not to wander near water at night if they don't want to end up with the same fate!