These 9 Most Haunted Places In Arizona Are Chilling
Experiencing a good fright doesn't have to just happen during Halloween. From ghost towns and haunted lore to abandoned places and reports of paranormal activity, Arizona is kind of a terrifying place! (In the best possible way, of course.) If you're looking to get in a good thrill but aren't sure where to start, we have a list of the most haunted places in Arizona that are well-worth the trek. But the real question is: are you brave enough to complete them all?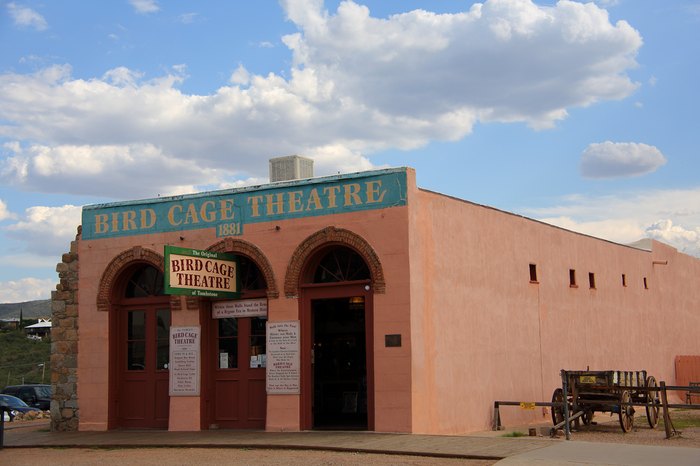 Do you agree with our list of the haunted places in Arizona? Is there a hometown haunting you think should have made the list? Share the place and the story in the comments below! We all love a good ghost story around here.
Address: 535 E Allen St, Tombstone, AZ 85638, USA
Address: 850 S Ash Ave, Tempe, AZ 85281, USA
Address: 11 Howell Ave, Bisbee, AZ 85603, USA
Address: 202 N Central Ave, Phoenix, AZ 85004, USA
Address: 200 Hill St, Jerome, AZ 86331, USA
Address: 809 W Main St, Mesa, AZ 85201, USA
Address: 4087 E Apache Trail, Apache Junction, AZ 85119, USA
Address: 203 W Adams St, Phoenix, AZ 85003, USA
Address: 36610 355th Ave, Wickenburg, AZ 85390, USA
Address: 220 Prison Hill Rd, Yuma, AZ 85364, USA
Most Haunted Places In Arizona
February 11, 2021
Can I visit any abandoned places in Arizona?
With a state that is filled with as much history as Arizona, it's only right that you can visit a handful of places that have since shut down or have been abandoned. Whether it's ghost towns that were once thriving or amusement parks with only remnants of laughter left, there are quite a few abandoned places in Arizona worth visiting. In fact, we made a road trip to 10 of the wildest abandoned places you can find in Arizona.
What are the creepiest cemeteries in Arizona?
Nothing tops the list of creepy places in Arizona quite like a cemetery, right? Well, we have a few creepy cemeteries in Arizona that are loaded with history. Check out Old Miners Cemetery in Jerome, Arizona, one of the most notorious ghost towns in the country! Or, Evergreen Cemetery in Arizona which has quite a fascinating yet chilling history.
Are there any haunted hotels in Arizona?
Some of the best Arizona ghost stories you'll come across involve haunted hotels in the state. That's right, there is nothing quite like spending the night in a haunted hotel, with the staff to regale you with the local lore. If you want to check a few of these places out, then peruse this list of the 15 haunted hotels in Arizona that are as terrifying as they come.
Address: 535 E Allen St, Tombstone, AZ 85638, USA
Address: 850 S Ash Ave, Tempe, AZ 85281, USA
Address: 11 Howell Ave, Bisbee, AZ 85603, USA
Address: 202 N Central Ave, Phoenix, AZ 85004, USA
Address: 200 Hill St, Jerome, AZ 86331, USA
Address: 809 W Main St, Mesa, AZ 85201, USA
Address: 4087 E Apache Trail, Apache Junction, AZ 85119, USA
Address: 203 W Adams St, Phoenix, AZ 85003, USA
Address: 36610 355th Ave, Wickenburg, AZ 85390, USA
Address: 220 Prison Hill Rd, Yuma, AZ 85364, USA