This Underrated Town Might Just Be The Most Beautiful Place In Alaska
The largest city in the interior region of the last frontier definitely has its misconceptions. While many view this town to be far too cold and dark for their liking, we know that the good things about this town far outweigh the bad in this underrated town in Alaska. When you go from -50 degrees in the wintertime to almost 100 degrees in the summertime, sure – the temperature swings are hard to get used to. But what this really does is it limits the year-round population to people who truly are dedicated to living the real, rugged Alaskan lifestyle.
Fairbanks is not only a gold mining mecca-land, but it is the most epic place to dance under the Midnight Sun or make snow angels under the Northern Lights. If you love the great outdoors, you'll fall head over heels in love with the town of Fairbanks. Choose from endless hiking trails, beautiful kayaking spots, and convenient places to rip upriver on a jet-ski right from the heart of downtown. From fishing on the Chena River to world-class hunting spots – Fairbanks has something for everyone. Read on to learn why the 'Golden Heart City' is the most underrated town in Alaska.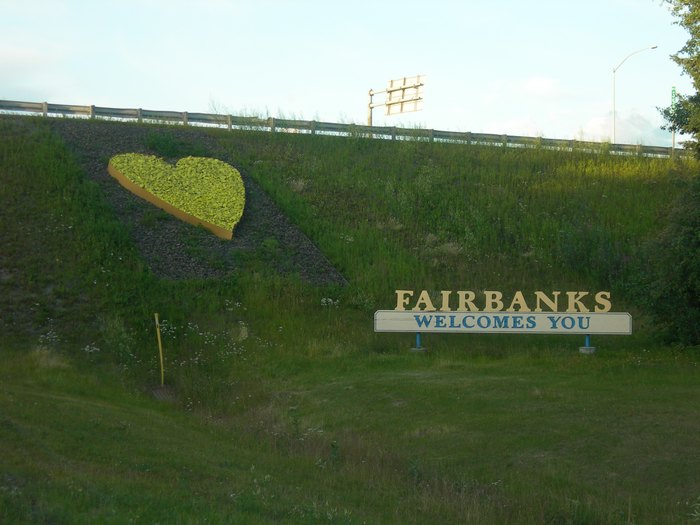 If you love the largest town in the interior region of Alaska, you'll absolutely adore these small Alaska towns that don't compromise scenery for square footage!
What do you love most about the town of Fairbanks? We'd love to hear about your favorite memories in the Facebook comments below!
Address: Fairbanks, AK, USA
OnlyInYourState may earn compensation through affiliate links in this article.
underrated town in Alaska
April 21, 2021
What are the coolest attractions in Alaska?
Obviously, Fairbanks offers visitors an awesome natural playground full of exciting recreational activities and beautiful sites to explore. But the largest city in the Interior region of Alaska is home to some pretty remarkable man-made attractions as well. The engineering feat of the Cold Regions Research and Engineering Laboratory, or "CRREL" Permafrost Tunnel is an awe-inspiring sight to be seen. This 360-foot tunnel offers a spectacular display of frozen native plant and animal remains where you can spot a variety of ancient fossils. Also found in Fairbanks is Polaris, a stunning sculpture with a soaring point directed towards the North Star. This magnificent collection of spires constructed by artists Michael Vandermeer and Cheryl Hamilton reflects elements predominant in the region including ice, quartz, and the Aurora Borealis.
What are the best outdoor activities in Alaska?
People from all over the world flock to Fairbanks each year to witness the breathtaking spectacle of the Northern Lights. Known as the best place in the United States to see these dazzling displays, Fairbanks offers some pretty unique viewing spots which make for a truly unforgettable experience. Taking in this colorful light show from Murphy Dome will immerse you completely in the magnificence of the Aurora Borealis. Friendly guides lead informative tours for visitors to learn all about this natural phenomenon as they sip from complimentary hot beverages. The Murphy Dome also provides guests a convenient hotel pickup and drop-off service.
What can I do with kids in Alaska?
Finding family-friendly activities suitable for little ones can sometimes be a daunting task in our wildly rugged state. Look no further than the Fairbanks Children's Museum for a fun-filled day of immersive experiences that kids of all ages will enjoy! This stimulating museum provides a play-based learning environment and offers a variety of camps and programs that connect your youngsters to the world around them. Hands-on, multi-sensory activities will keep your whole group entertained as they discover the many exhibits thoughtfully curated by the museum's experienced team of educators.
Address: Fairbanks, AK, USA
OnlyInYourState may earn compensation through affiliate links in this article.