Posted in Alaska
August 01, 2020
The Story Behind This Simple Cabin In Alaska Is One You Won't Forget
Henry David Thoreau once wrote, "I went to the woods because I wished to live deliberately, to front only the essential facts of life, and see if I could not learn what it had to teach, and not, when I came to die, discover that I had not lived."  This is a saying that Richard Louis Proenneke would undoubtedly live by. At the age of 49, he retired to live the next thirty years of his life in the quiet solitude of the vast Alaskan wilderness learning what it is to be self-reliant and self-sufficient in this one-of-a-kind cabin in Alaska.
Today, his handmade cabin is a landmark for both naturalists and adventurers alike who seek a self-sustainable lifestyle in the peaceful confines of the wilderness. These photos will take you back in time as you learn more about the construction of Proenneke's one-of-a-kind cabin and his life in the Alaskan wilderness.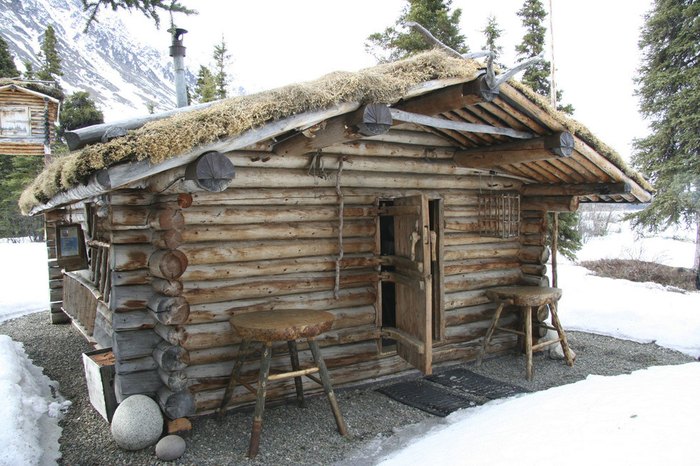 Have you heard of Proenneke's Cabin before? What do you think of this one-of-a-kind cabin in Alaska? Have you ever seen it before? Let us know in the comments below!
If you're looking for more spectacular spots that have become a part of the National Register Of Historic Places, check out This Chapel In Alaska That Is Located In The Most Unforgettable Setting.
Address: Lake Clark National Park and Preserve, Port Alsworth, AK 99653, USA
One-Of-A-Kind Cabin In Alaska
August 15, 2020
What is the Homestead Act?
The Homestead Act was enacted on January 1st, 1863. The Homestead Act, created during the Civil War, stated that any adult American citizen who had never raised arms against the government, could stake a claim of 160 acres. Many people moved to Alaska to claim new land. This act allowed the cultivation of Alaskan wilderness until the act was repealed in 1976. A ten year extension was granted for Alaska, and homesteading didn't officially end in our state until 1986.
What is Lake Clark National Park known for?
Lake Clark National Park is unable to be reached by road, and only when weather and tides cooperate can you access it by boat on the Cook Inlet. This national park is almost entirely breathtaking wilderness. Many people reach the trek to this remote park by air. Visitors come every year to watch bears, and see the largest sockeye salmon fishery in the world. Still others come to experience volcanoes, mountains, and one of the most beautiful lakes on the planet. Lake Clark is also the ancestral lands of the Dena'ina people, and is filled with cultural history. Go hiking, reserve a public use cabin and spend the night, or canoe or hike one of the stunning lakes in this area. This is truly a great example of Alaska wilderness!
Address: Lake Clark National Park and Preserve, Port Alsworth, AK 99653, USA