Gaze At A Pink And Violet Sky During The Alpenglow, A Stunning Natural Phenomenon In Alaska
The soft and subtle calming colors of an alpenglow have a way of lighting up the hearts of anyone that lays eyes on the natural phenomenon while it's live and in action. Couple this enchanting optical experience with the backdrop of Alaska's world-renowned towering mountains and you're sure to be utterly blown away by the magic that takes place. While an alpenglow in Alaska is fun to talk about and even look at in pictures, this is truly such a spectacular occurrence that it needs to be seen to be fully believed and appreciated.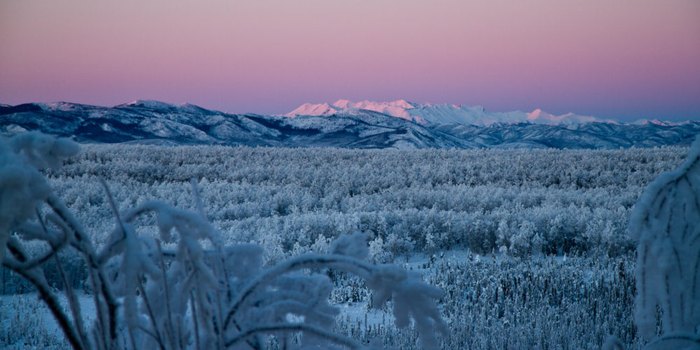 If you thought alpenglow in Alaska was amazing, check out this other natural phenomenon in Alaska that happens just once a year that is absolutely spectacular. Also, be sure to check out these 7 wonders of the world that are right here in Alaska.
OnlyInYourState may earn compensation through affiliate links in this article.
More to Explore
Alpenglow In Alaska
How many mountain ranges does Alaska have?
Alaska has fourteen major mountain ranges. Out of those fourteen there are four largest are the Alaska Range, the Brooks Range, the Coast Range, and the Aleutian Range. These large mountain ranges cover a good portion of Alaska. You can find the Coast Range in southwest Alaska, covering the area of Ketchikan to Skagway. The Brooks Range is in the Arctic Circle, ranging from the north eastern to the north western part of the state. The Alaska Range is one of the most famous in Alaska, as it is home to Denali, the largest mountain in North America.  The Aleutian Range builds the the beautiful island chain off of the coast of Alaska.
Which hidden gems in Alaska should I visit?
There are many hidden gems all over the state of Alaska. Fishhook Road, that connects Willow to Palmer through Hatcher Pass, is a stunning little gem that you can really only experience in the summer when the road opens up and the snow melts completely. You'll need a car with good clearance to pass over the pot holes and rocks that may litter the road, but you won't regret a moment exploring in this area! Chicken, Alaska is another fun place to visit in Alaska. A small town with a huge amount of history, you can gold pan, camp, or visit the little museum in town that you may want to check out when visiting. There's also the Fortymile Wild and Scenic River for you to check out!
Does Alaska have any natural wonders?
Alaska has several natural wonders, including the tallest mountain in North America, the phenomena of alpenglow, and the aurora borealis that comes out to play in the winter. There's also amazing natural features like glaciers, granite tors, rainforests, an impressive amount of wildlife, and more. No matter where you choose to visit in Alaska, you will be sure to see one of Alaska's amazing natural wonders. 
Related Articles
Featured Addresses