Few People Know You Can Hike To The Wreckage Of A Deadly Crash On This Alaska Glacier
Bomber Glacier is named for the airplane wreckage in the center of the ice. The wreckage is a haunting reminder of how serious weather conditions get in Alaska. You never know when hours of surviving in the cold will be on the schedule, and that can lead to tragedy. A storm long ago forced a bomber to crash into the glacier in spectacular fashion and the broken plane is still there today.
The Crash
The plane was a TB-29 Superfortress that crashed on November 15, 1957. The crew was a 5040th Radar Evaluation Squadron based at Elmendorf Air Force Base at Anchorage. They were in the midst of a routine radar-calibration training mission that was supposed to last 10 hours. The plane became trapped in a storm coming south through the Susitna Valley. They drifted 27 miles off course into the Talkeetna Mountains. At 6:22 PM, they crashed into a glacier at 5,600 feet elevation, at the time unnamed.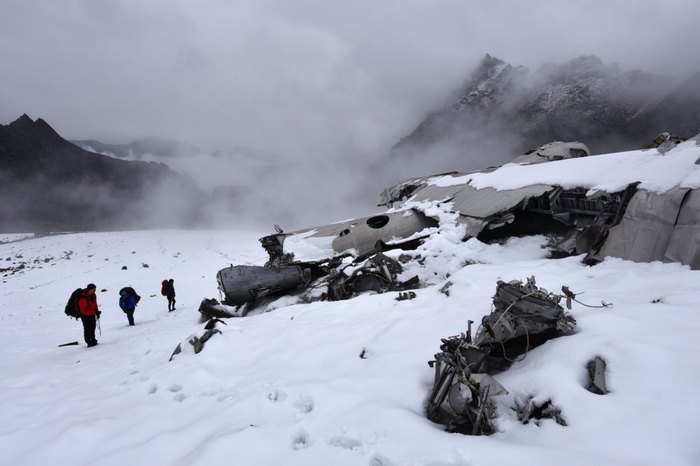 The Trail
Bomber Glacier is about located 39 miles southeast of Talkeetna, just north-east of Hatcher Pass.The trail is 12 miles out and back, located near Palmer that features beautiful wild flowers in spring and summer. It is best from April to September, but weather is always cold and unpredictable in the mountains. Be prepared for the extreme weather or you might require an emergency rescue, too.
In this excellent video from Last Frontier Adventure Club, you can follow along on the hike up to the glacier, and get a view of the creepy wreckage:
As the result of a Boy Scout service project in 2006, two memorial plaques being forged in 2006. One of the plaques was placed at the Alaska Veterans Memorial and the other was placed 70 miles south at the crash site.
If you like planes, check out This Recent Discovery In Alaska Answers Several Questions About A Missing Plane. Or watch this amazing flight in This Flight Over Denali In Alaska Is Unbelievably Beautiful.
Have you been to Bomber Glacier? Tell us about it in the comments below.
OnlyInYourState may earn compensation through affiliate links in this article.