Everyone In Alaska Must Visit This Epic Hot Spring As Soon As Possible
We say, "as soon as possible" but this hot spring in Alaska – Chena Hot Springs – is best experienced in the dead of winter, especially during a Northern Lights appearance. Just imagine lounging in a natural rock pool filled with hot, thermal waters and gazing up at the vast Alaskan sky with the aurora dancing back and forth in metallic blues and emerald greens. You couldn't forget an experience like that even if you tried. Believe it or not, it gets better. Yes, the natural hot springs are one-of-a-kind, but the resort itself is equally as impressive and world-renowned. Check out the pictures to see the unique and incredible, must-visit destination, Chena Hot Springs in Alaska. If you looked up "hot springs near me" – you've found the best one.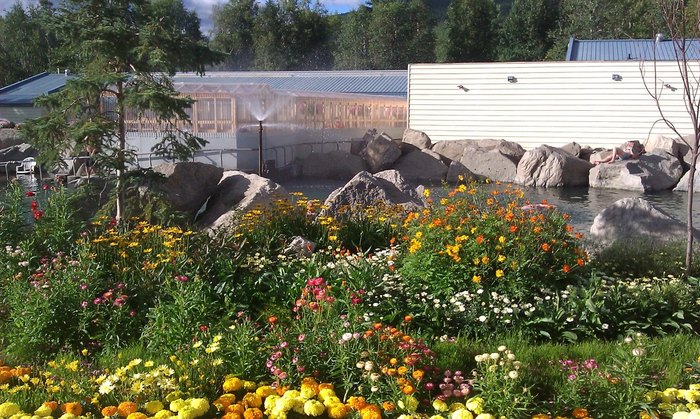 Have you been to this hot spring in Alaska before? What did you think? Let us know in the comments! If you're looking for more about what an incredible trip to these hot springs would look like, read more about why Chena Hot Springs Is One Of The Gorgeous Hot Springs In Alaska You Can Still Visit In The Wintertime.
OnlyInYourState may earn compensation through affiliate links in this article.
Address: Chena Hot Springs Resort, 17600 Chena Hot Springs Rd, Fairbanks, AK 99712, USA
Hot Spring In Alaska
September 24, 2020
Are the cold seasons still a good time to visit Alaska?
Fall and winter are amazing times to visit this unbelievable state! The colder seasons in Alaska last much longer than the warmer ones, so we Alaskans have found plenty of things to do all winter long, all over the state. Besides the traditional winter activities like snowshoeing, skiing, and snow machining. But we also ice fish, hunt aurora borealis, hike in the mountains, and ice skate on the frozen lakes and rivers. The cold temperatures bring a peacefulness to the state, and it forces you to slow down a little, and really appreciate all of the stunning beauty around you.
Are there a lot of hot springs in Alaska?
There are a ton of hot springs in Alaska! Many of them are remote and off of the road system, so you'll need to hike, bike, or snow machine in to these wonderful spots. They are very popular for those looking for a winter camping destination, and they offer a wonderful way of unwinding and relaxing at the end of a long hike. These destinations are usually available to use all year long, and many of them aren't managed by a company, but open to anyone willing to make the trip.