The Hidden Beaches Road Trip That Will Show You Alabama Like Never Before
We're all familiar with Alabama's beautiful Gulf Coast beaches. However, several lesser-known beaches are located throughout the state that are also worth checking out. The best hidden beaches in Alabama are sure to leave you impressed, and you just might discover a hidden gem hiding close to your own hometown.
The total mileage for this hidden beaches road trip is 605 miles, with an estimated drive time of 11 hours and 7 minutes. For driving directions, we've provided you with this easy-to-follow interactive Google map link. This hidden beaches road trip begins in Rogersville at Joe Wheeler State Park and ends in Marion at Perry Lakes Park. Fill up your gas tank and pack a supply of sunscreen, because the best beaches in Alabama offer hours of fun in the sun and will show you the state like never before.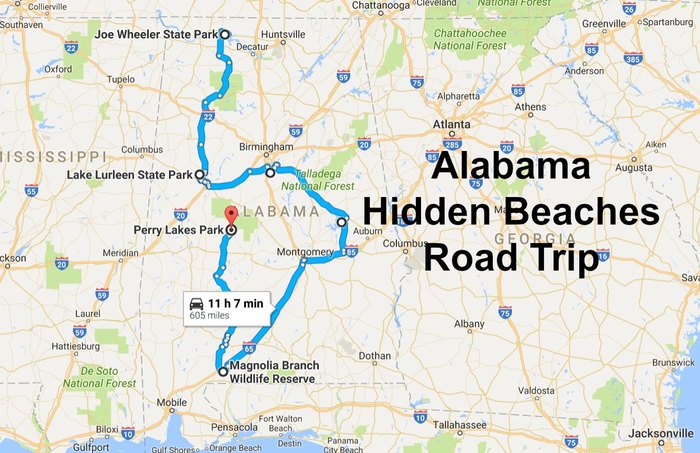 If you were to do a search for "beaches near me," one of these beaches are sure to appear near the top of the list!
Does this sound like a road trip you'd be interested in taking? Why or why not? Have you spent time on any of these hidden beaches in Alabama? If so, we'd love to read about your experience in the comments section below!
If you enjoyed this visit to the best beaches in Alabama, then you'll definitely love a trip to the state's most incredible hidden attractions.
If you're still in the mood for more Alabama adventures, take a look at this video:
OnlyInYourState may earn compensation through affiliate links in this article.
Best Beaches In Alabama
July 25, 2019
Where can we find waterparks in Alabama?
Pirates Bay Water Park in Leesburg has waterslides, a splash pad, and a swimming pool. Plus, everything at the park is pirate-themed.
Point Mallard Park in Decatur covers 500 acres and is home to the first wave pool in America.
Spring Valley Beach in Blountsville features the Southeast's largest pool and has 10 waterslides and a kid's water playground.
Read on to learn about some of the many other exciting waterparks in Alabama.
Where can we find beach towns in Alabama?
Fairhope offers stunning views of beautiful Mobile Bay and is often called the most walkable town in Alabama.
Orange Beach is named after the oranges that were once grown here and is thought to have the clearest water in the state of Alabama.
Dauphin Island Park and Beach is the state's southernmost point and is known as the "Sunset Capital of Alabama."
Read on to learn more about some of the many other charming beach towns in Alabama.
Where can we find other waterways in Alabama?
The Cahaba River is a major tributary of the Alabama River and one of the most scenic and biologically diverse rivers in the U.S.
Hatchet Creek, located south of Sylacauga, begins in the Talladega National Forest and runs through lots of picturesque areas until it reaches the Coosa River.
Briar Lake in Stockton is where you can catch some of the best fish in the state.
Read on to learn about some of the many other beautiful waterways in Alabama.