This Day Trip Takes You To 7 Of Alabama's Covered Bridges And It's Perfect For A Scenic Drive
Several covered bridges are still standing throughout The Yellowhammer State, which means when you put them all together, you get one of the best day trips in Alabama. Some of the bridges are still open to drivers to adventure across, while others are closed and can only be enjoyed aesthetically. One of the best ways to experience the coolest covered bridges in Alabama is in this one incredible road trip.
We've mapped a day trip that'll take you to seven of Alabama's most famous covered bridges. With a driving distance of 254 miles and a drive time of five hours and seventeen minutes, it can easily be completed in a single day. Even though the following day trip begins and ends in Cleveland, Alabama at the Clarkson-Legg Covered Bridge, you may begin your adventure wherever you wish.
Now, let's get started: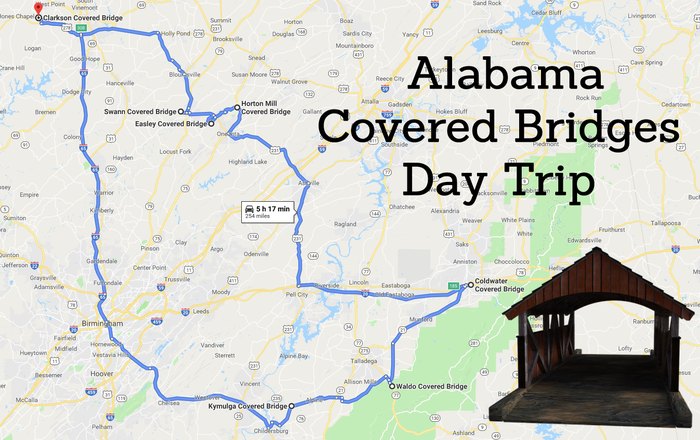 Have you seen any of these covered bridges in person? If so, please share your thoughts with us in the comments! For more information about Alabama's Swann Covered Bridge, be sure to check out our previous article: The Longest Covered Bridge In Alabama Is Nothing Short Of Spectacular.
OnlyInYourState may earn compensation through affiliate links in this article.
Day Trips In Alabama
October 08, 2021
Where can I find the longest covered bridge in Alabama?
Out of all of the covered bridges in Alabama that we recommend checking out, the longest is the Swann-Joy Bridge. This bridge was built back in 1933 and clocks in at 324-feet in length. But not only does the Swann-Joy Bridge hold the title for longest, but it might also just be the most beautiful, too. Spanning the Locust Form of the Black Warrior River, this gem was listed on the National Register of Historic Places in 1981.
What are the best road trips through Alabama?
Looking for some fun things to do in Alabama? How about packing up the car, making a mixtape, and hitting the open road?! We have a handful of road trips in Alabama to consider for your next free weekend. If you're looking for a seasonal road trip, tackle this drive to see the best Alabama fall foliage. Also, you can check out this three-day restaurant road trip in Alabama if you're looking for some delicious eats!
Where can I go on one tank of gas in Alabama?
Perhaps you are looking for scenic drives in Alabama that don't require a few days to complete. If such is the case, then you might want to explore these Alabama one-tank of gas trips. You can hop in the car and go, visiting some of the greatest hidden attractions Alabama has to offer.