You Can See 11 Waterfalls In Just One Day Of Hiking In Wyoming
Wyomingites are so lucky to be surrounded by the beauty of nature. If you're looking for a one-day adventure that's sure to be remembered, head out on this trip to hike to 11 different Yellowstone Waterfalls. These are some of the best waterfall hikes in Wyoming, and they're sure to take your breath away. Bring your boots and bear spray!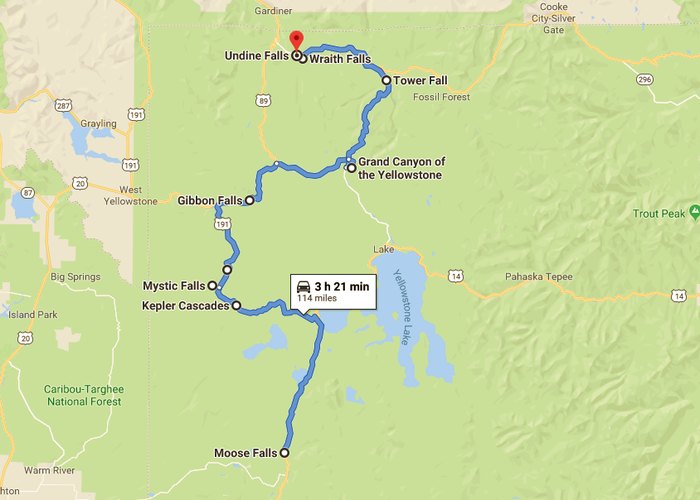 Each of these waterfalls is located in Yellowstone National Park, which is best to visit in May, June or September, when the crowds quiet down.
Address: South Entrance Road, Yellowstone National Park, WY, 82190
Be careful in Yellowstone. While it's truly a wonderland of geology, quite a few tourists visit, and never make it back. Read about some spooky deaths in Yellowstone here, and be sure to follow the park's rules for a safe and enjoyable trip.
OnlyInYourState may earn compensation through affiliate links in this article.
More to Explore
best waterfall hikes in Wyoming
What are the best waterfall hikes in Wyoming?
The most famous waterfall hike in Wyoming is likely the Hidden Falls trail in Cascade Canyon of Grand Teton National Park. This waterfall is a roaring cascade, and it is tucked away behind a large row of evergreen trees. The trail to access it is fairly easy, though it does require some elevation gain. Take your time and watch your step and you're sure to discover it without much trouble. Other great waterfall hikes include the short trek to the Afton Intermittent Spring, and the waterlogged trail out to the secret falls in Curt Gowdy State Park.
When is the best time to visit Yellowstone National Park in Wyoming?
The best time of year to visit Yellowstone depends on what you want to see! It's most difficult to visit in winter, when most part roads are closed to travel. You'll have to rent a snowmobile or hire a guide to explore the park during this time. In late April, the park roads begin to open back up, and by late May, they're open again. Springtime is great to visit for wildlife spotting and fewer crowds, but the weather can be cold. Summer offers the best weather, but also the largest crowds. Fall is an incredible time to visit for the Elk Rut and other wildlife and fall foliage activity, but snow is possible from September on.
Which is the highest waterfall in Yellowstone National Park, and how can I see it in person?
Silver Cord Cascade, in the Grand Canyon of the Yellowstone, is the tallest waterfall in Yellowstone. It tumbles 1,200 feet into the Yellowstone River, making it one of the tallest waterfalls in the country as well. You can see the brink of the falls from the Clear Lake Ribbon Trail, or an overlook of the entire waterfall from the Seven Mile Hole trail along the North Rim of the Grand Canyon of the Yellowstone.
Related Articles
Explore Wyoming