A Terrifying Northwest Wyoming Road Trip Is Right Here And It's A Scary Good Time
Wyoming is the perfect state for ghosts and apparitions to lurk around with its abundance of Wild West history and ghost towns. If you are one who wonders if these things really exist, check out this hauntingly exciting road trip. The road trip itself takes around 12 hours, so be sure to take a weekend and stay in one of the haunted hotels along the way. This road trip focuses on the northwestern part of the state, and it's sure to showcase some of the scariest places in Wyoming.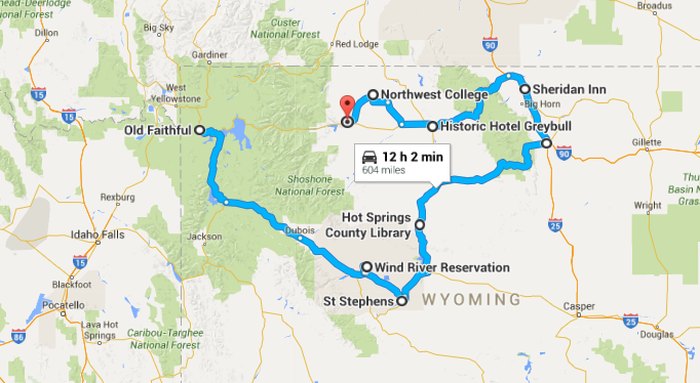 Have you or do you know of anyone who has experienced an unsettling vision or feeling in the state of Wyoming? Feel free to comment below.
For ways to fall in love with the scariest places in Wyoming, read 10 Reasons That Wyoming Is The Most Terrifying, Spookiest State. You might end up sleeping with the light on!
OnlyInYourState may earn compensation through affiliate links in this article.
Address: Old Faithful Inn Rd, Wyoming 82190, USA
Address: Wind River Reservation, WY, USA
Address: 128 Mission Rd, St Stephens, WY 82524, USA
Address: 344 Arapahoe St, Thermopolis, WY 82443, USA
Address: The Historic Occidental Hotel, 10 N Main St, Buffalo, WY 82834, USA
Address: Sheridan Inn, 856 Broadway St, Sheridan, WY 82801, USA
Address: 600 Greybull Ave, Greybull, WY 82426, USA
Address: 231 W 6th St, Powell, WY 82435, USA
Address: Buffalo Bill's Irma Hotel & Restaurant, 1192 Sheridan Ave, Cody, WY 82414, USA
scariest places in wyoming
October 20, 2020
What are the most unique towns in Wyoming?
Some of the most unique towns in Wyoming include Thermopolis, Buffalo, Sheridan, and Cody. Thermopolis is the seat of Hot Springs County. The town itself is the dinosaur capital of the region, and it sits on the world's largest mineral hot spring. Buffalo is a historic mountain town with a lot of Wild West history! Sheridan still maintains a lot of its past, including the downtown area that looks like it's straight out of the past. In Cody, you'll find a blend of history and modern development that makes for one of the most welcoming and unique towns in the state.
Can I hike to historical sites in Wyoming?
There are a lot of historical sites in Wyoming that can be accessed by foot. The state's first "roadside attraction", Ayres Natural Bridge, is just a short walk from the parking area and worth exploring. You can also hike around Independence Rock, Fossil Butte, and Devils Tower. For historical sites in Wyoming that aren't natural wonders, visit the Chapel of the Transfiguration and the TA Moulton Barn, both located near short trailheads in Grand Teton National Park
Are there any ghost towns in Wyoming?
Wyoming is full of ghost towns! Visit Gebo to find a haunted ghost town, or head to South Pass City to step back in time to a historic rebuilt town. Atlantic City is more population than most "ghost towns", thanks to a community dedicated to preservation and its proximity to the Continental Divide trail. In Kirwin, you can visit the town that was meant to be Amelia Earhart's vacation home. The town did not last long, though, and an avalanche changed away most residents.