The Natural Swimming Hole At Phelps Lake In Wyoming Will Take You Back To The Good Ole Days
Hey there Wyoming – are you looking forward to summer? While it's definitely our shortest season, every year we do get a few weeks of hot weather, and it's enough to make us abandon our treasured hot springs and search for a cooler place to swim. Phelps Lake in Wyoming in Grand Teton National Park is the best swimming hole in the state! Learn more below and plan your own lake adventure.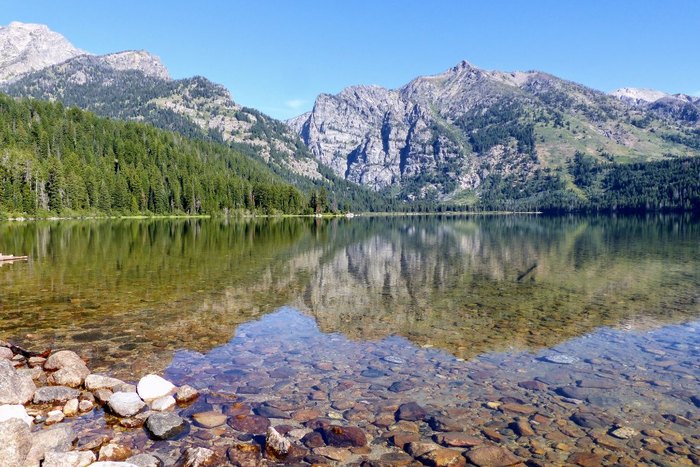 The best swimming hole in Wyoming is hiding in plain sight – and it will remind you of your childhood spent jumping from cliffs and rocks into Wyoming's chilly alpine water.  Phelps Lake in Wyoming is worth a visit if you want to go swimming surrounded by natural beauty his summer.
For more great swimming holes in the Cowboy State, read Here Are 7 Wyoming Swimming Holes That Will Make Your Summer Epic.
OnlyInYourState may earn compensation through affiliate links in this article. As an Amazon Associate, we earn from qualifying purchases.
More to Explore
Phelps Lake in Wyoming
I'd love to see this lake from above! Is that possible?
Certainly! The Phelps Lake Loop Trail will take you around the lake, but if you branch off onto the Valley Trail at the lake's northern end, you can take it to the Phelps Lake Overlook. The view from up there is amazing! Check out this post to see and learn more: Take A Short Hike To A Stunning Overlook On The Phelps Lake Trail In Wyoming
What else is there to do in Grand Teton National Park?
There is so much to do in this park! It's incredible. Hiking in this park is something that you will never forget. Here's a list of seven trails that you should try! 7 Hikes In Wyoming's Grand Teton National Park Where You Can Dodge The Summer Crowds
I'd like to go camping in Grand Teton National Park. Can you tell me a bit about the campgrounds there?
This post has lots of helpful information about Grand Teton's campgrounds: Beginning This Season, Wyoming's Second Most Popular Park Will Be Reservation-Only
I'm not really a camper. I think I'll stay in a hotel in Jackson. Can you tell me a little bit about Jackson?
Staying in Jackson is a great option! This little town has so much going on. There are great restaurants and lots of stores to explore. Here's a great way to spend a day in Jackson if you have time! Grab Some Tacos And Paddle Whitewater Rapids At This Awesome Spot In Wyoming
I'm going to Wyoming to see wildlife. What kinds of animals can I expect to see there?
There are so many animals in Wyoming that it would be very surprising if you didn't see a whole bunch during your visit. You can expect to see elk, deer, pronghorn, moose, birds, and a variety of rodents. If you venture into Yellowstone, you'll see some bison. Consider yourself very lucky if you see a bear or a coyote. But - for all of the above - remember to keep your distance! Here are some incredible photos of animals in Wyoming: 12 Photos Of Wildlife In Wyoming That Will Make Your Jaw Drop
Related Articles
Explore Wyoming
Featured Addresses

Phelps Lake, Wyoming 83014, USA