Nestled In The Small Town Of Burlington, Fred's Makes Some Of The Best Burgers In Wisconsin
In Wisconsin, we know a great burger. We're used to scrumptious ingredients, fresh from the farm. We have criteria for what makes a magnificent burger and we all have our favorites. It's a pretty subjective thing, honestly, but if there's one place that most everyone can agree upon having some of the very best burger, it's Fred's Burgers in Wisconsin.
This unassuming spot in Burlington looks like a ton of corner pubs in Wisconsin, with the requisite football memorabilia decorating the walls. But don't let that facade fool you. This isn't your standard spot with a hard-working fryer in the back churning out tasteless food. Fred's serves fresh, hand-made patties on hearty buns that makes them the best. It's right there on the sign, so you can't argue.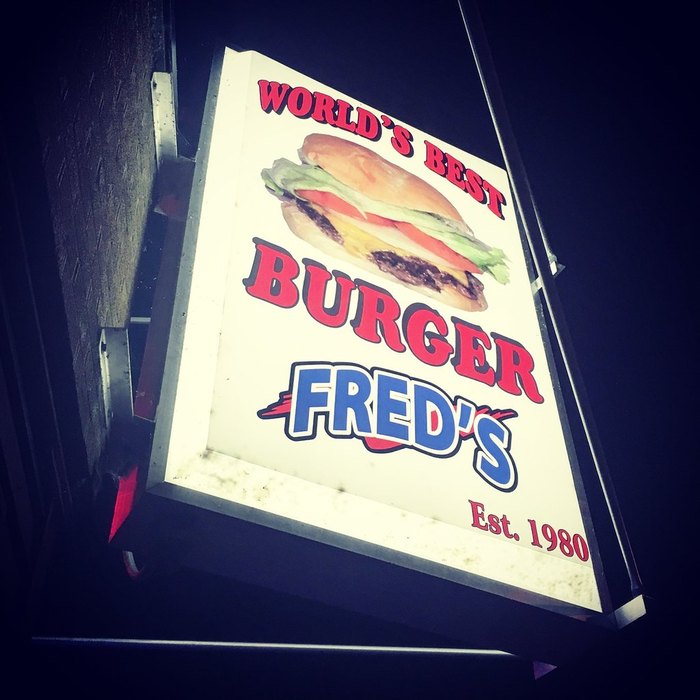 Have you ever been to Fred's Burgers in Wisconsin? Let us know what you think in the comments. Is there another hidden gem burger place we haven't written about before? Nominate it for a chance to be featured!
Hungry for more tasty eats? Check out these incredible under the radar restaurants in Wisconsin.
Address: 596 N Pine St, Burlington, WI 53105, USA
OnlyInYourState may earn compensation through affiliate links in this article.
Fred's Burgers in Wisconsin
July 24, 2020
What are the best small town restaurants in Wisconsin?
We all love eating at the famous restaurants in Milwaukee and Green Bay, but sometimes it's fun to venture off the beaten path and dine at one of the amazing small town restaurants in Wisconsin. For some scrumptious eats, visit Green Dragon in Fond du Lac. This little-known pub serves authentic European cuisine in a no-frills atmosphere. Believe us, this place is worth seeking out. For traditional pub fare, visit Flying Hound in Fitchburg. Here, you'll find giant burgers, crunchy shoestring french fries, and a wide variety of refreshing beers.
Who makes the best burgers in Wisconsin?
Satisfy your hunger pains at Pete's Hamburger Stand in Prairie du Chien. This beloved restaurant is only open seasonally, and people count down the days until they open their doors each year. Pete's has served their classic, homestyle burgers since 1908. The nostalgic atmosphere and friendly service will keep you coming back for more. For more tasty eats, visit Dotty Dumpling's Dowry in Madison. This cherished restaurant serves juicy burgers, scrumptious cheese curds, and fried pickles. It's the ultimate place to indulge your comfort food cravings.
What are the best diners in Wisconsin?
For some nostalgic grub, visit Delta Diner in Mason. This out-of-the-way eatery will transport you back to the '40s and '50s. Bring your appetite! Their burgers are hearty and delicious. For more retro fun, visit Monty's Blue Plate Diner in Madison. This '50s-inspired eatery serves everything from pies to burgers, and they even have an impressive vegetarian menu. No matter what you're in the mood for, chances are you'll find it at Monty's. Still haven't gotten enough? Check out Frank's Diner in Kenosha. This cash-only establishment is simple and cozy. It's one of those places that feels like home.
Address: 596 N Pine St, Burlington, WI 53105, USA
OnlyInYourState may earn compensation through affiliate links in this article.