Plan A Trip To Wisconsin's Oldest Winery For An Unforgettable Outing
Wisconsin isn't one of the places folks think about when we talk major wine-growing regions, but the area around Green Bay and Door County, known as the Wisconsin Ledge, is actually an American Viticulture Area. The growing characteristics here are similar to those in Napa Valley and it's been noted as a prime grape-producing region. But long before the state became populated with vineyards and even long before a local vineyard worked to get the area noticed by the AVA, Von Stiehl Winery in Algoma was using the bounty of local fruit – mainly Door County cherries – to make truly delicious wines. Way back in 1967, Dr. Charles Stiehl forced the state of Wisconsin to create a licensing system for wineries and became the first officially licensed wine-maker in the state. More than 50 years later, a different family is at the helm (they've been there for more than 30 years), but they're still making amazing fruit wines and keeping up the history of this amazingly delicious and groundbreaking Wisconsin winery.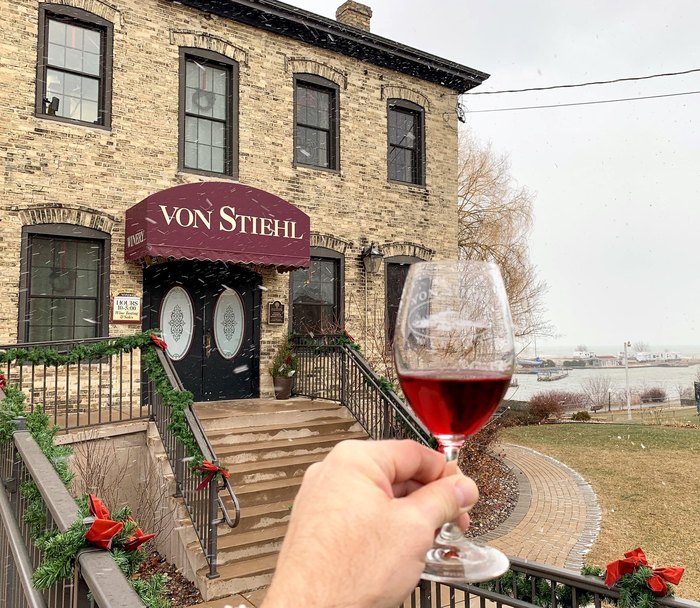 Von Stiehl Winery is located at 115 Navarino St., Algoma, WI 54201. Learn more about this delicious and historic vineyard on their website or by checking out their Facebook page.
Wisconsin is chock full of amazing wineries and you're going to want to make plans to visit them all. Get started using this list of amazing and truly gorgeous wineries in Wisconsin.