This Mouthwatering Ice Cream Trail In Wisconsin Is The Sweetest Adventure In The State
Honestly, we could have done a trip like this in a bunch of different parts of the state. As the Dairy State, we're blessed with some truly awesome ice cream places spread all over. We focused on the southeastern part of the state because it feels like an iconic Wisconsin ice cream trail has to have some frozen custard on it and that part of the state seems to have a monopoly on that delicious frozen treat.
Sometimes our road trips require multiple days or at least multiple drivers to try and fit it all in, but the beauty of this trip is that it clocks in right around two hours and just more than 90 miles. You might end up with one heck of a stomachache, but this trip could be done before lunch. If you're looking for the best ice cream in Wisconsin on one mighty trail, this is the experience for you.
For directions and exact addresses, you can view the Google Map of the trip here. Now fasten your seat belts!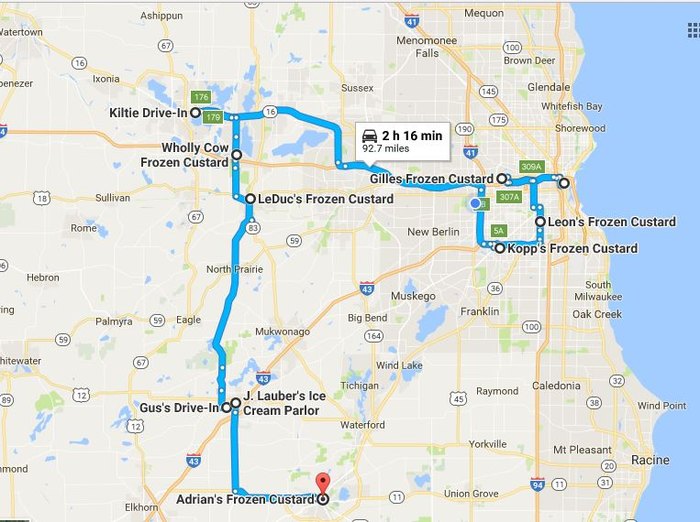 So what do you think about this trip featuring the best ice cream in Wisconsin?
If you're not up for the whole road trip, how about just checking out one of the 15 greatest places to get frozen custard in Wisconsin?
OnlyInYourState may earn compensation through affiliate links in this article.
More to Explore
Best Ice Cream In Wisconsin
What is the most famous ice cream shop in Wisconsin?
Of course, out of all the ice cream shops in Wisconsin, there likely is one that ends up being the most popular. Whether it's because of the history behind it, the longevity in the community, or just simply having the best ice cream, it's always fun to find the most famous ice cream shop in every state. For Wisconsin, it's hard to pinpoint just one however, it might be Wilson's Restaurant & Ice Cream Parlor in Ephraim. This vintage soda fountain serves ice cream and has been around since 1906!
Where can I find the best desserts in Wisconsin?
The next time you're venturing out to satisfying your sweet tooth, make sure to visit Madison Sourdough in Wisconsin. While the shop is known for it's fresh, homemade bread, it's the patisserie that is worth checking out. Get ready for some delicious baked treats and chocolate-covered cakes.
Can I visit any drive-thru ice cream parlors in Wisconsin?
If you want to snag some ice cream but don't want to get out of your car, then we have the ultimate shop for you. Takeout ice cream is always worth the trip and one of the best places to score a sweet drive-thru is Gus's Drive-In in East Troy. Stay comfortable as you indulge!
Related Articles
Explore Wisconsin
Featured Addresses

Purple Door Ice Cream, 205 S 2nd St, Milwaukee, WI 53204, USA

Gilles Frozen Custard, 7515 W Bluemound Rd, Milwaukee, WI 53213, USA

3131 S 27th St, Milwaukee, WI 53215, USA

Kopp's Frozen Custard, 7631 W Layton Ave, Greenfield, WI 53220, USA

N48W36154 E Wisconsin Ave, Oconomowoc, WI 53066, USA

637 Main St, Delafield, WI 53018, USA

240 W Summit Ave, Wales, WI 53183, USA

3131 Main St, East Troy, WI 53120, USA

2010 Church St, East Troy, WI 53120, USA

572 Bridge St, Burlington, WI 53105, USA