Thousands Of Hummingbirds Will Arrive In Wisconsin This Spring
When spring is springing here in Wisconsin, the most delightful sign of the season is undoubtedly the arrival of the hummingbirds. These adorable little birds will be arriving in Wisconsin soon, and it's something you won't want to miss. Since hummingbirds don't migrate in flocks like other birds, their arrival is staggered; however, you'll likely notice an influx in the upcoming months — and there are even a few things you can do to attract the colorful creatures to your yard. Read on to learn everything you need to know about this much-anticipated annual spectacle, including when thousands of hummingbirds will arrive in Wisconsin this spring.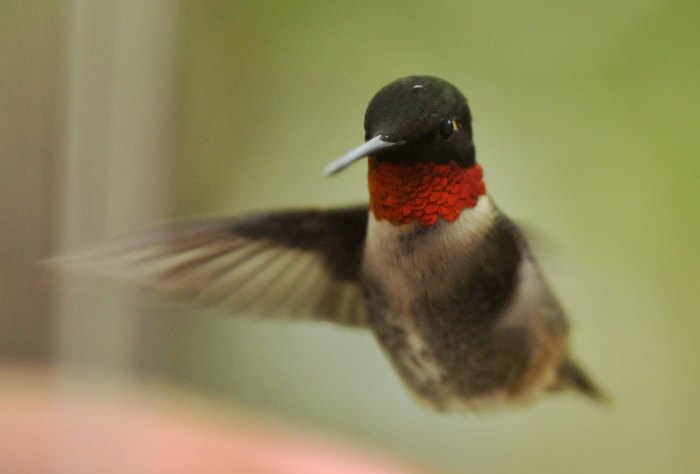 Are you excited for when the hummingbirds will arrive in Wisconsin? Have you spotted any yet this year? Tell us in the comments section!
And for more on Janesville's Rotary Botanical Gardens, one of Wisconsin's best places to see the hummingbirds, definitely check out our previous article!
OnlyInYourState may earn compensation through affiliate links in this article.
When Will Hummingbirds Arrive In Wisconsin?
February 22, 2021
When can we expect the hummingbirds to arrive in Wisconsin this spring?
Up here in The Badger State, we have to wait a bit longer to see the hummingbirds -- but trust us, it's worth it! The hummingbirds are expected to arrive in Wisconsin right at the beginning of May, during the first week. Of course, hummingbirds follow their own timeline and aren't beholden to a calendar, so you could expect them beginning the third week of April. In fact, experts recommend having your hummingbird feeders ready two weeks before the birds' expected arrival, just in case. You definitely won't want to miss out!
Where are the best places to go bird watching in Wisconsin?
Wisconsin is full of beautiful places where you can get an up-close look at nature. Some of our favorite places to go bird watching in Wisconsin are at the International Crane Foundation, where some 15 different crane species can be found. The Trempealeau National Wildlife Refuge is another favorite; you'll take the scenic Great River Road to get there, and you'll definitely want to keep your eyes peeled for beautiful birds along the way! Once you're there, you'll find a number of bird species who travel up and down the Mississippi River, from eagles to pelicans to terns. And for an epic bird watching adventure, head to Prairie du Chien, which is known as a hotbed for bald eagles. They nest here, and it's not unusual to see a number of them flying up and down the river as they search for fish to feed on. It's something you truly must experience.
What are some beautiful places to visit during spring in Wisconsin?
One of the very best parts of spring in Wisconsin is all the new growth. The vibrant colors and intoxicating smell of all the new plants, trees, and flowers are really what makes this season so amazing -- and after the rough Wisconsin winters, we certainly deserve it! Wisconsin has some of the very best botanical gardens in the country, and the state is also home to a number of parks, preserves, and trails where you can experience the full splendor of the season.