7 Ridiculously Charming Train Rides To Take In Wisconsin This Fall
There's something so charming and nostalgic about fall train rides in Wisconsin. It feels like you've traveled back in time and though they can definitely move, they sort of feel like you've slowed way down and taken a break. We're so lucky in Wisconsin to have multiple trains of various sizes that take you into nature and help you celebrate fall. All across the state, you can hop on a train to enjoy fall colors and pick up a pumpkin. These trains have a wide variety of schedules, prices, and opportunities for you to love fall in Wisconsin: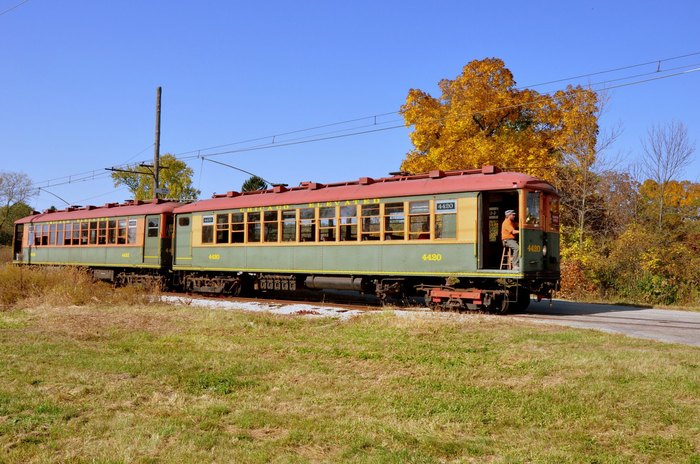 Have you taken any of these delightful train rides? Let us know about them in the comments!
Another great way to celebrate fall is with fresh apple cider donuts! Check out these 11 spots to get some of the most delicious donuts in the state.
Address: Little Amerricka Amusement Park, 700 E Main St, Marshall, WI 53559, USA
Address: National Railroad Museum, 2285 S Broadway, Ashwaubenon, WI 54304, USA
Address: Mid-Continent Railway Museum, E8948 Museum Rd, North Freedom, WI 53951, USA
Address: Osceola Township, MN, USA
Address: Riverside & Great Northern Railway, N115 County Rd N, Wisconsin Dells, WI 53965, USA
Address: Wisconsin Great Northern Railroad, n6639 Dilly Lake Rd, Trego, WI 54888, USA
Address: East Troy Railroad Museum, 2002 Church St, East Troy, WI 53120, USA
Fall Train Rides in Wisconsin
September 09, 2022
What's the most scenic fall foliage train ride in Wisconsin?
There's nothing better than welcoming fall in Wisconsin. Whether you're a fan of Halloween, a pumpkin spice enthusiast, or more of a casual admirer of this crisp, colorful season, it's tough to deny the delights of a cozy family outing during the fall months. If you're hoping to fill your calendar with fun things to do, there are loads of fall day trips in Wisconsin — but few compare to the simple magic of a fall foliage train ride. Luckily for fall fans of all ages, there are plenty of autumn trains in Wisconsin just waiting to be appreciated. Many of the above railroads offer autumn excursions, but none quite compares to the splendor of the Wisconsin Great Northern Railroad. Also known as the Spooner Train, you'll find this gem located up in the northwest corner of the state, due north of Eau Claire and just a bit west of Hayward. Being so far north, the fall foliage in this region of Wisconsin is spectacular, and this train ride is easily one of the most unique experiences you could ever imagine!
Address: Little Amerricka Amusement Park, 700 E Main St, Marshall, WI 53559, USA
Address: National Railroad Museum, 2285 S Broadway, Ashwaubenon, WI 54304, USA
Address: Mid-Continent Railway Museum, E8948 Museum Rd, North Freedom, WI 53951, USA
Address: Osceola Township, MN, USA
Address: Riverside & Great Northern Railway, N115 County Rd N, Wisconsin Dells, WI 53965, USA
Address: Wisconsin Great Northern Railroad, n6639 Dilly Lake Rd, Trego, WI 54888, USA
Address: East Troy Railroad Museum, 2002 Church St, East Troy, WI 53120, USA