West Virginia Is Home To The Country's Best Snow Tubing Park And You'll Want To Visit
The winter season means the return of beautiful vistas throughout the state as well as outdoor activities in the Mountain State that can only be enjoyed in the snow. Whether you've been to a bona fide snow tubing attraction or not, the hill you dreamed of each winter as a kid is right here in your own back yard in West Virginia, and you'll want to glide down it on a tube! Here's everything you need to know about Winterplace Ski Resort, the biggest and best snow tubing park in West Virginia…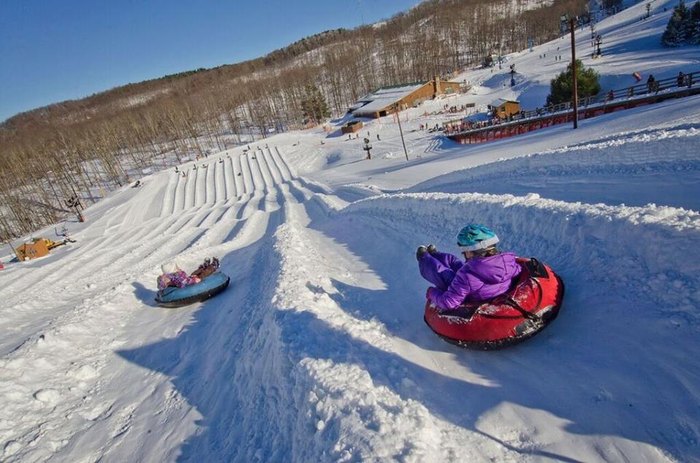 Ready for a fun activity the entire family can enjoy?! A height requirement of 44 inches is required to tube on the big hill; however, there is a smaller hill at the Kiddie Park for children under 44 inches. Rates and time blocks vary and range from a two hours to all day, with prices varying by age, group numbers, and duration of snow tubing time. All of this information is available on the Winterplace Ski Resort website, linked below.
Winterplace Ski Resort is located at 100 Old Flat Top Mountain Rd., Ghent, WV, 25843. Learn more about the tubing park at this link on the official website.
Can't get enough snow tubing in West Virginia? We don't blame you! After you've had your fun in the snow at Winterplace Ski Resort, head to the country's longest and fastest sledding hill. (Yep, it's here in West Virginia, too!)
Address: Winterplace Ski Resort, 100 Old, Flat Top Mountain Road, Ghent, WV 25843, USA
Snow tubing in West Virginia
February 06, 2022
Where else can I go for epic snow tubing in West Virginia?
After tackling the biggest snow tubing run in the Mountain State at Winterplace Ski Resort, you might worry that, pardon the pun, it can only go downhill from there. Not to fear; just because Winterplace Ski Resort is the largest snow tubing park in West Virginia, doesn't mean there aren't other epic places to get your winter thrills and kicks! Galactic Snow Tubing at Snowshoe Mountain is another amazing seasonal attraction in West Virginia. During the day, folks can't get enough of the fun at Coca-Cola Tube Park, and then, come nightfall, they can drop six fast-paced, breathtaking stories during the park's galactic snow tubing adventure! As you zip down the mountain on one of the most epic tubing hills in West Virginia, you'll be treated to a spectacularly colorful LED light show. It's really unlike anything you've ever experienced before.
What are some other fun winter activities in West Virginia?
We absolutely love hiking during the cold-weather months in the Mountain State, and Grandview, a former West Virginia State Park that's now run by the National Park Service, is famous for offering some of the best views of the famed New River Gorge to be had anywhere in West Virginia. If it's an epic view you're after, then the best time to visit this park is in the winter, when the leaves have fallen from the trees, and you can see through their branches to the mountain terrain beyond. You can really try any of the Grandview overlooks or trails for excellent views that are hidden behind the trees for most of the rest of the year. Have we convinced you yet? Learn more here!
Address: Winterplace Ski Resort, 100 Old, Flat Top Mountain Road, Ghent, WV 25843, USA