This Haunted Road Trip Will Lead You To The Scariest Places In West Virginia
West Virginia is full of ghost stories. It's not surprising, as the state was so important in the Civil War. It also has a number of burial grounds from indigenous culture, and plenty of preserved historic buildings provide atmosphere for the spookiest stories. Nonetheless, a combination of tragedy and history have transformed everyday destinations into the scariest places in West Virginia… and this road trip will take you to see them in person. It will take at least a couple of days to see all the destinations, but we have the perfect haunted hotel where you can stay the night! For an interactive map that you can adjust to suit your needs, click here.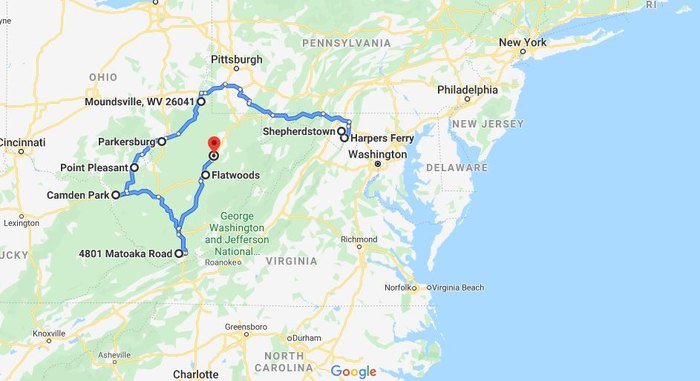 This adventure to the scariest places in West Virginia is an opportunity to walk on the wild side. Even if you're skeptical about ghosts, you'll learn a lot of history on this trip around the state. But… be prepared in case you do encounter a spectral figure or two. Have you ever had an encounter with ghosts here in West Virginia? Tell us about it in the comments!
For another great road trip in West Virginia, you'll want to make the trek out to the most haunted road in the state.
OnlyInYourState may earn compensation through affiliate links in this article. As an Amazon Associate, we earn from qualifying purchases.
More to Explore
The Scariest Places In West Virginia
What are the scariest haunted attractions in West Virginia?
The Trans-Allegheny Lunatic Asylum is, quite frankly, one of the scariest buildings in North America. However, it is also one of the most scenic spots in West Virginia. If you're really up for putting your bravery to the test, you can spend the night in one of our many haunted hotels.
Can I visit any abandoned places in West Virginia? 
You definitely can! While there are many abandoned places in the state, Nutallburg is open to the public and well worth exploring. You can hike to this abandoned coal mining trail!
Are there any urban legends in West Virginia?
Aside from the world-famous (or, rather, infamous) tale of the Mothman, there are a few other pieces of local legend in West Virginia. You'll enjoy The Legend of Screaming Jenny... it's one of the creepiest urban legends in the state! It tells of a woman in Harpers Ferry whose long skirt, a downfall of the era, caught fire. On the anniversary of her death, Jenny's still burning spirit makes her way to the local train tracks, screaming for assistance that is now decades too late.
Related Articles
Featured Addresses

Harpers Ferry, WV 25425, USA

Moundsville, WV 26041, USA

Camden Park, 5000 Waverly Rd, Huntington, WV 25704, USA

4801 Matoaka Rd, Rock, WV 24747, USA

Trans-Allegheny Lunatic Asylum, 50 S River Ave, Weston, WV 26452, USA