Here's The Perfect Weekend Itinerary If You Love Exploring Washington's Waterfalls
Sometimes it's nice to go on a weekend getaway that's a bit out of the ordinary. And since Washington's waterfalls are amazing during every season, try making some of the state's most beautiful natural wonders the focus of your travels the next time you feel like an adventure. With relatively little hiking, this itinerary takes you past some of the most beautiful waterfalls in NW Washington, and we think you're absolutely going to love it. This waterfall road trip in Washington also skips over the most popular falls in WA and instead highlights some hidden gems so you can truly get out and explore.
Ready? Check out the official Google Map.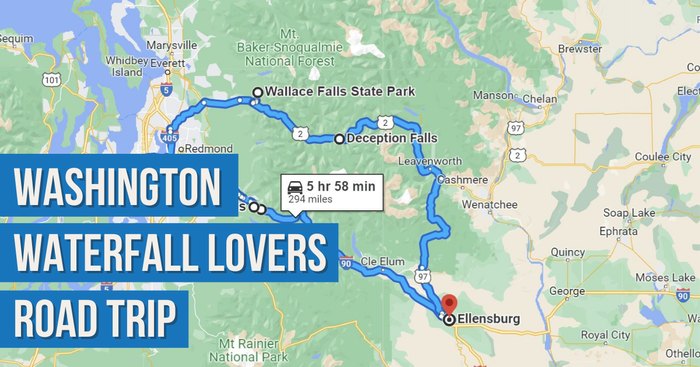 Our waterfalls are so beautiful! Which waterfalls in Washington are your favorites? Have any ideas about which ones we should feature in the future? Let us know by filling out this handy form!
Washington's waterfalls are truly something – and we have literally thousands to choose from! If you're looking for a road trip to explore even more of the most beautiful waterfalls in Washington, check out this mapped-out journey.
OnlyInYourState may earn compensation through affiliate links in this article.
More to Explore
Waterfalls in Washington & Related Info
What are some must-see natural wonders in Washington state? 
Washington is a state so stunningly beautiful that it's got its very own "Seven Wonders of Washington" list! Some of the more notable wonders in Washington state include the humbling Mount St. Helens, which was forever changed following a deadly, explosive volcanic eruption in May 1980. It's an incredible experience where you'll learn a tremendous amount about both that fateful day and the volcano itself. The Hoh Rainforest is another must-see wonder of this beautiful state; it's the wettest forest in the contiguous United States – a true rainforest! Finally, we also really love Long Beach, which, ironically, is not the longest beach in the world like it claims to be.  
What are some of the best hikes in Washington state? 
The best part of living in such a beautiful state is probably the fact that no matter where you decide to go hiking, it's going to be fabulous. Some of the most popular and highest-rated hiking trails in Washington state include the legendary Lake 22 trail within Mount Baker Snoqualmie National Forest. Take in incredible forest views and picturesque scenery along the nearly seven-mile-long journey. At Mount Rainier National Park, you'll want to visit the excellent Skyline Trail Loop, which features stunning waterfall views. That one has seasonal closures, though, so make sure to double-check for those while planning. 
Where are the most beautiful places in Washington state? 
In one word? Everywhere! Washington is a great state for appreciators of nature and landscape photographers looking for the next great shot. It's got a number of well-known scenic places; some tend to be busier than others, but all of them are simply breathtaking. For example, there's a little place within Mount Rainier National Park that's called, simply, "Paradise". Why? Because it is – it offers some of the most incredible views of the peaks one could possibly ask for. Ross Lake, at North Cascades National Park, is another intensely amazing place, with crystal-clear blue waters and enough beauty to amaze anyone who sets foot there.  
Related Articles
Explore Washington
Featured Addresses

Umtanum Creek Falls Trail, Selah, WA 98942, USA

Weeks Falls Trail, Washington 98045, USA

Twin Falls, Washington 98045, USA

6501 Railroad Ave, Snoqualmie, WA 98065, USA

219 2nd Ave S, Seattle, WA 98104, USA

14503 Wallace Lake Rd, Gold Bar, WA 98251, USA

210 E Railroad Ave, Skykomish, WA 98288, USA

Deception Falls, Washington 98288, USA