Fort Worden In Washington Is The State's Most Haunted Campground
Originally designed as a military base to protect Puget Sound from invasion, Fort Worden in Washington is now an iconic state park in the beautiful little city of Port Townsend. Inside the complex, you'll find restaurants, cottages, retreat housing, and dozens of campsites. Campers will have their choice of 30 forested campsites, 50 beach campsites, and four primitive sites. But there's more to Fort Worden In Washington than meets the eye… check it out if you dare! Is Fort Worden haunted? Well… you be the judge: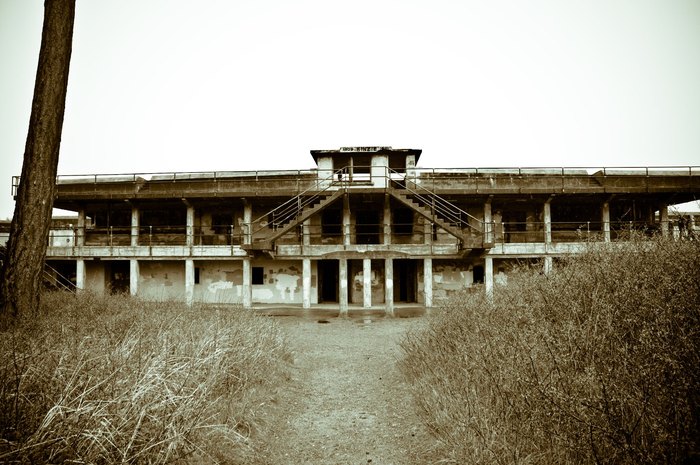 Explore Fort Worden in all its eerie glory in this firsthand walkthrough video:
For more information, including rates and availability, check out the official campground website.
Have you ever visited Fort Worden in Washington? Let us know in the comments below! And if you feel like going ghost hunting, here are even more haunted places in Washington that are said to be oh-so-spooky.
OnlyInYourState may earn compensation through affiliate links in this article.
Address: Fort Worden Way, Port Townsend, WA 98368, USA
Fort Worden in Washington
February 19, 2021
What are the most haunted places in Washington?
It's no surprise that one of the most haunted spots in Washington is a cemetery, and Black Diamond Cemetery has earned its reputation for good reason. Here, visitors have reported sightings of a galloping phantom horse, seeing spooky swinging lanterns and hearing ghostly voices, and eerie whistles. Unexplained activities like flickering lights and mysteriously tripped alarms at The Tacoma Old City Hall have earned its ranking among one of the most haunted places in The Evergreen State. The violent history of the Oxford Saloon in Snohomish has lent to reports of multiple hauntings in the building, including sightings of a woman's figure roaming the halls dressed all in purple.
What are the most popular ghost stories in Washington?
One of the most popular and bone-chilling ghost stories in Washington is that of Point Defiance Park. As the tale is told, the ghost of a murdered little girl has been seen riding her bike around the park but vanishes if anyone approaches. Once a hospital In Olympia, The Capitol House Apartments on Sherman Street is a hot spot for paranormal activity. Among the scary observances in the building is a figure rocking in an old chair on the bottom floor. One of the most reportedly haunted restaurants in Washington is located in Aberdeen, Billy's Bar and Grill. The bar was named after the secretary of the sailor's union, Billy Gohl who had been known to brutally murder sailors after luring them to the bar. It's said you can see the visage of Billy looming behind the bar.
What are the most unique places to spend the night in Washington?
Washington is home to an abundance of unique stays ranging from scenic overnight spots to world-class natural spas. Head out to The Mount Rainier National Park when you're in the mood for a completely relaxing retreat. The Stormking Spa offers guest cabins with starry skylights, luxurious hot tubs, and cozy hammocks perfect for hours of stress-free lounging. In Quincy, surround yourself with scenic vineyards and lush landscapes at the Cave B Inn & Spa. Stay in one of their Cavern Rooms which feature a basalt rock cave entrance and soaking tubs with views of the Columbia River. A favorite stay in Bellingham is in the Lighthouse Suite of the Hotel Bellwether. There, guests marvel at the 360-degree views of Mount Baker, Squalicum Harbor, and the San Juan Islands from the observation area accessed by a charming spiral staircase.