10 Unique Places to Stay in Washington For A Cool And Quirky Vacation
As local travel experts, we know what travelers are looking for when it comes to finding the perfect accommodations for their next trip. To compile our lists, we scour the internet to find properties with excellent ratings and reviews, desirable amenities, nearby attractions, and that something special that makes a destination worthy of traveling for.
There are so many unique places to stay in Washington, and so many beautiful areas to explore. If you are planning a vacation to Washington State, whether it is the lovely and charming Whidbey Island or somewhere along the banks of Puget Sound, you will be treated to scenic views and wildlife beyond your imagination. Here are some of the most unique vacation rentals to spruce up your getaway.
Treehouse Rentals in Washington
If you are looking for cool places to stay in Washington state, a treehouse rental has to top the list if you love nature as much as we do. There is something so grounding about being connected to the earth in such a magical environment surrounded by forests, mountains, and scenic views every time you blink your eyes. We think you'll fall in love with these two rentals.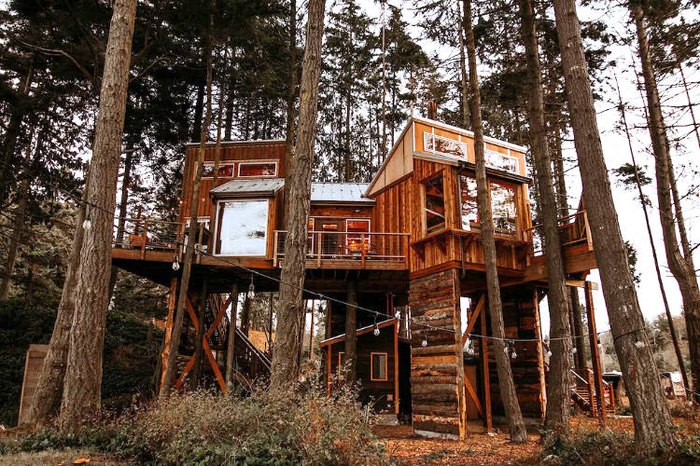 Tiny House Rentals in Washington
On your road trip adventures through Washington state, why not experience the joy of tiny house living? There is something so lovely about a tiny home that you don't get from a hotel stay or your typical vacation rental. If you are looking for fun places to stay in Washington try one of these tiny homes.
Farm Houses for Rent in Washington
If spending your vacation on a working farm gets you excited, Washington has some pretty great places to stay. These two rentals combine the beautiful scenic views you know and love about Washington with the joy of spending time on a lovely farm.
Mansions for Rent in Washington
If you want to splurge on your Washington getaway a stay at a mansion sounds pretty luxurious doesn't it? Whether you prefer a historic Victorian mansion or a modern estate with a swimming pool, Washington can certainly deliver. Here are a couple of unique rentals in Washington of the high-end variety. Raising your pinkie for tea time is optional.
Castles for Rent in Washington
As far as unique places to say in Washington go, a castle has to top the list. These two rentals are so fun and filled with charm that we think you'll be digging out your suit of armor and your princess dress in no time.
We hope you have enjoyed our list of some of the most unique places to stay in Washington. If you haven't visited this beautiful state, we encourage you to pick your favorite vacation rental and plan a road trip as soon as possible. There is so much natural beauty in the PNW, and we can't think of a better way to enjoy it than spending your vacation in one of these very special rentals. Which one is your favorite?
OnlyInYourState may earn compensation through affiliate links in this article.
Washington State is a Pacific Northwest Marvel
March 15, 2023
What are the best unique hotels in Washington?
The best unique hotels in Washington include:
Hotel Bellwether, Bellingham, WA: The resort's lighthouse suite features a spiral staircase up to an observation level with 360-degree windows where you can enjoy a spectacular view of Mount Baker, the San Juan Islands, Squalicum Harbor, and the city of Bellingham.
Wharfside Bed and Breakfast, Friday Harbor, WA: It's not every day that you can sleep on a floating boat like this aquatic bed and breakfast. Hop aboard their "Slow Season" yacht at the Port of Friday Harbor and experience an evening below deck in one of their spacious, private rooms. In the morning, you'll be treated to an appetizing breakfast out on the dock.
Cameo Heights Mansion, Touchet, WA: This lovely themed bed and breakfast hotel is a fun way to enjoy your Washington vacation. Would you pick the Italian room, the English Tudor room, or the Spanish Suite? Each offers a unique hotel experience surrounded by the beautiful Washington wine country.
Where are the most unique getaways in Washington?
The most unique getaways in Washington include:
Teepees at Cherry Wood Bed and Breakfast, Zillah, WA: There aren't many more unique places to stay for a night than inside a teepee in Washington's wine country. It's like going camping and a bed & breakfast all in one, and it's absolutely magical. Their 22-foot teepees feature cloud-like beds inside, a private restroom, and an open-air shower.
Abendblume Inn, Leavenworth, WA: You can find this quaint bed and breakfast on the outskirts of Leavenworth in the Cascades area. Their homey suites are decorated beautifully, and feature fireplaces, private balconies, and heavenly European beds to sink into. They're also known to serve up one of the most mouthwatering meals in the mornings.
The C+A+V+E, Leavenworth, WA: This delightful Hobbit house is located just outside the Bavarian town of Leavenworth. You will definitely feel like you are staying in a cave with the natural rock hot tub and the stone embellishments throughout the rental. It is quite a unique, but wonderful, getaway.
What are the most stunning natural areas in Washington?
Washington is unquestionably brimming with out-of-this-world natural areas to delve into. Priest Point Park is right on the coast of East bay, allowing for a mesmerizing combination of forest and water views. Olympic National Park is a famous old-growth forest that is perhaps the pinnacle of nature's artistry. It contains the Tree Cave which is a massive tree with exposed roots under which you can explore. Hoh Rainforest is also in this gorgeous park and is an exotic, forested wonderland of natural exquisiteness. For seaside beauty, you can't beat Cape Flattery in Clallam County. Limestone karsts line the coast and are topped with pine trees. This picturesque scene is like something out of a fantasy novel.
What are the best foods to sample in Washington?
Washington is a culinary haven and you can find so many mouthwatering morsels here. Walla Walla is known for its sweet onions that have a mild, delicate flavor that pairs well with so many dishes. The state is famous for its apples and produces over 60% of the nation's supply. Salmon is a staple in the state and is especially delicious grilled on a cedar plank with a sweet glaze. To top it off, not to mention topping off any sundae, we have Ranier cherries named after Mount Ranier and they are a sweet addition to any dessert.
What are some experiences unique to Washington?
While exploring nature could easily take up all of your time, set some aside for some alternative exploration. Washington has some lovely cultural small towns such as Leavenworth, a Bavarian-style tiny town with Alpine-style buildings, German beer, and food, and has a Nutcracker Museum with thousands of nutcrackers, including some hundreds of years old. There's also Poulsbo, which is like a Little Norway with Norse-inspired adornments everywhere and a ton of Viking imagery. If you want an iconic Seattle experience, head over to Elliott's Oyster House for some waterfront seafood dining.