The Ultimate Pizza Journey Through Washington Makes For One Delicious Adventure
Ask 100 Washingtonians for their favorite local pizza spot and you're likely to get 100 different answers. Unlike places like New York and Chicago, the Pacific Northwest doesn't have its own pizza style—and that's actually a good thing, because there's a huge variety in the types of pies you'll find here.
This pizza journey is not meant to be completed in a single weekend, or even a single road trip. That would be disastrous on the wallet and waistline. It's also not meant to be a list of all the delicious pizza joints here in Washington—there are far too many to list. But as you travel around the state this year, stop and try each place featured here. When you finish your pilgrimage, you'll have sampled a good selection of tasty local pizza.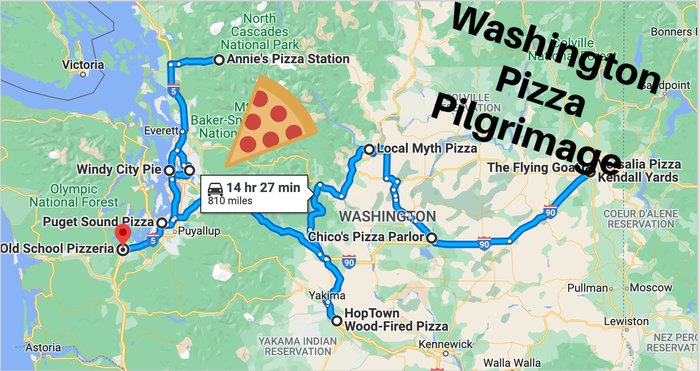 There are so many fantastic pizza options in Washington. Shout-out your favorites so we can show them some love.
Address: The Flying Goat, 3318 W Northwest Blvd, Spokane, WA 99205, USA
Address: Versalia Pizza Kendall Yards, 1333 W Summit Pkwy, Spokane, WA 99201, USA
Address: Chico's Pizza Parlor, 530 W Valley Rd, Moses Lake, WA 98837, USA
Address: Local Myth Pizza, 122 S Emerson St, Chelan, WA 98816, USA
Address: HopTown Wood-Fired Pizza, 2560 Donald Wapato Rd, Wapato, WA 98951, USA
Address: Old School Pizzeria, 108 Franklin St NE, Olympia, WA 98501, USA
Address: Salamone's Pizza, 24 N Tacoma Ave, Tacoma, WA 98403, USA
Address: Windy City Pie, 5918 Phinney Ave N, Seattle, WA 98103, USA
Address: Sunny Hill, 3127 NW 85th St, Seattle, WA 98117, USA
Address: Railroad Pub & Pizza, 122 S Spruce St, Burlington, WA 98233, USA
Address: Annie's Pizza Station, 44568 State Rte 20, Concrete, WA 98237, USA
OnlyInYourState may earn compensation through affiliate links in this article.