5 Pristine Hidden Beaches Throughout Washington You've Got To Visit This Summer
This may not be the best summer for jetting off to a tropical island, but that doesn't mean you can't spend some quality time at the beach. Washington is full of stunning shoreline and sandy seaside properties just waiting to be explored. The beaches on this list aren't exactly secrets, but they do happen to be less populated than most. If you need a quiet beach day this summer, try one of these spots! These hidden beaches in Washington are a real treat for every nature lover looking to relax and unwind.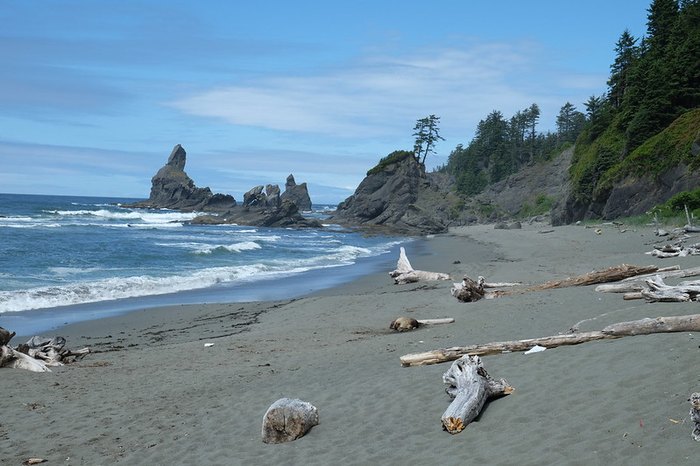 Spending time at the beach is both relaxing and restorative. These spots are all fantastic, and if you need more, check out our Washington hidden beaches road trip!
OnlyInYourState may earn compensation through affiliate links in this article.
Hidden Beaches in Washington
May 27, 2022
Where are the most beautiful private beaches in Washington?  
Washington is known for its otherworldly beauty and lush, vibrant forests. It's a coastal state, too, so it's got plenty of absolutely breathtaking beaches. Sure, you can go to any old public beach and battle the crowds, or you can try and explore some of the most beautiful private beaches in Washington instead. Why not check out one of these secret beaches? Some of our favorite beaches in Washington that tend to be much less crowded are Meadowdale Beach Park, which is home to a sandy beach surrounded by pristine forest. It requires a brief hike to access it, but it's worth it! Port Williams Beach is another must-do, and though it's not exactly a hush-hush secret, it does tend to be much less crowded on a regular basis.   
What are the most popular Washington beaches to visit?  
There are lots of wonderful, popular Washington beaches to visit if you're one of those folks who doesn't mind the crowds from time to time. Among the most popular beaches in Washington state are delightful gems like Seattle's iconic Alki Beach, which is definitely a fan favorite for the locals. Have a bonfire or play some volleyball. Sink your toes in the sand or take a dip in the sea. Alternatively, you can head out to Olympic National Park and visit Ruby Beach, which is a beach unlike any other you've probably ever visited, with amazing jutting rock formations, cliffs, and chilly water year-round. Finally, in Long Beach, you'll find the Long Beach Peninsula, which tends to be nice and quiet most of the time as there are 28 miles of shoreline to disperse across.  
Are there any secret beaches in Washington that are less crowded?  
Other than the ones mentioned above? Of course. There are plenty of beaches that could be considered secret beaches in Washington, like Moran Beach, which you'll find at Oak Harbor. It's quite secluded and offers excellent views of the Olympic Mountains and the San Juan Islands. Quite possibly the most amazing secret beach in Washington of them all is Glass Beach, at McCurdy Point. To reach the sea glass in question requires a challenging three-mile hike across very rugged, rocky terrain, but to say it's worth it is to make the understatement of the year.