Enjoy Scenic Views While Hiking The Franklin Falls Trail In Washington
If you're looking for an easy hike this summer, try taking the short trail out to Franklin Falls Trail in Washington. This spectacular cascade on the Snoqualmie River is one of the state's most glorious natural wonders, and it's very accessible, too! Franklin Falls can be reached by way of a pleasant two-mile hike with very little elevation, just outside of North Bend. Let's go hiking!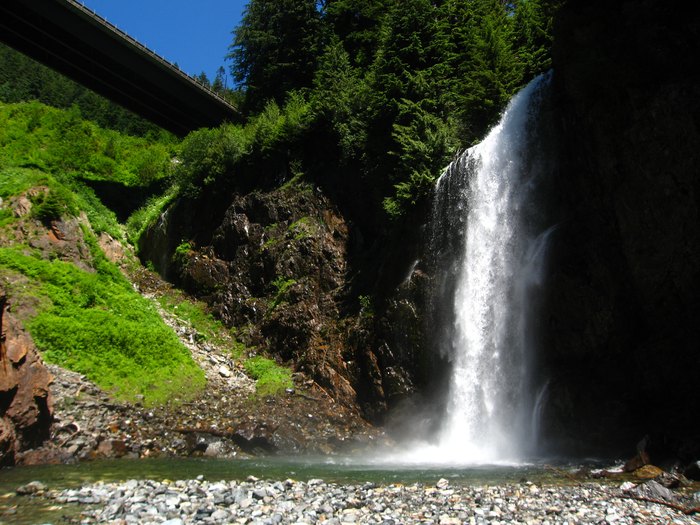 Isn't this hidden waterfall beautiful? Have you been to Franklin Falls Trail in Washington before? Let us know in the comments below!
OnlyInYourState may earn compensation through affiliate links in this article.
More to Explore
Franklin Falls Trail In Washington
Does Washington have any natural wonders?
We're all familiar with the world famous Mt. Rainier, but with such ecologically diverse terrain and unique geological formations, The Evergreen State's landscapes are rich in natural wonders. Among the most stunning sites is Diablo Lake located in northern Washington. This dam-created lake boasts breathtaking jade waters surrounded by a backdrop of the National Park's North Cascade mountains. On the more unusual side, Ape Cave located on the south side of Mt. St. Helens is a fascinating 2.5-mile lava tube formed over 2,000 years ago. Stalactites and stalagmites line its narrow passages, creating a prehistoric atmosphere for brave cave-dwellers. Olympic National Park is home to one of the largest temperate rainforests in the U.S., Hoh Rain Forest. This enchanting ancient forest receives an average of 140 inches of rain annually, resulting in lush mosses, ferns and towering coniferous and deciduous trees. Of course, the Franklin Falls Trail in Washington takes you to one of the state's most stunning natural wonders!
Can I hike to historical sites in Washington?
Across Washington, remains of our fascinating history are easily accessible to the modern explorer. You don't have to be a frontier buff to enjoy hiking to these remarkable landmarks, Washington trails always offer spectacular scenery! In the central Cascades, Iron Goat Trail follows part of the old Great Northern railroad leading hikers through scenic waterfalls, wooden bridges, and views of Stevens Pass. In Black Diamond, the once active mining town of Franklin was abandoned in 1920 making it an excellent destination for ghost town seekers. This easy 2.5-mile hike meanders through decaying mining remnants, an old cemetery and excellent areas to take in incredible views of Mt. Rainier. Just east of Granite Falls, Robe Canyon Historic Trail winds along the Stillaguamish River offering unparalleled views of the North Cascades. Old railroad tracks and mining tunnels give hikers a glimpse into a bygone era.
What are the best beaches in Washington?
Washingtonians have the luxury beach destinations scattered along 157 miles of coastline and over 8,000 lakes. At the Olympic National Park, picturesque seascapes surrounded by rugged natural beauty makes Ruby Beach a favorite. You may discover curious residents of the park sharing the beach, a variety of wildlife and nesting bird colonies enjoy frequenting the many tide pools. Puget Sound's sprawling sandy beach at Golden Gardens Park is a popular destination for its range of sights and activities. Explore the nearby wetland forest trails, join a game of volleyball or watch the glorious sunset relaxing by a cozy bonfire. In Everett, a quick ferry ride from the marina lands beachgoers in the warm sands of Jetty Island Park. The shallow, kid-friendly waters,  beach activities, gorgeous views, and nature trails makes Jetty Island perfect for a family getaway.
Related Articles
Explore Washington
Featured Addresses

Franklin Falls, Washington 98045, USA