Best Camping In Virginia: 30+ State Parks, Resorts & Glampgrounds for Your Bucket List
There's a saying about the Old Dominion that's become synonymous with the state itself: Virginia is for lovers.
And it's true – in more ways than one.
As one of the 13 original colonies, Virginia is most definitely for history lovers.
Although technically considered part of the Mid-Atlantic region, Virginia embraces Southern hospitality, with its warm and welcoming demeanor.
Wine lovers flock to Virginia, one of the best burgeoning wine regions in the country and a must-visit for oenophiles. The same goes for beer enthusiasts, gourmands, and foodies — the food and drink scene in Virginia is unrivaled.
And in terms of outdoor recreation, there's no place better than Virginia. Between Shenandoah National Park, 100+ miles of Atlantic Coastline, beautiful caverns, rivers, and valleys, Virginia is the total paradise for nature lovers. With fall foliage, scenic drives for days, bucket-list-worthy hiking trails, and nationally acclaimed camping, Virginia really is the total package.
Today, we're exploring the best camping in Virginia — the places everyone knows about, the hidden gems, the backcountry adventures, the glamping — all of it. Come along with us on the adventure of a lifetime as we take a look at the best camping in Virginia!
Best Camping In Virginia
Camping in Virginia is one of the best ways to experience the Great Outdoors. Fortunately, you'll find beautiful campsites in nearly every corner of the Old Dominion, from the shores of the coast to the craggy mountains of the north.
We've looked high and low, consulted the experts, and referenced our own experiences, and present to you the following places for the best camping in Virginia. From national park campgrounds to state park superstars, hidden gems, and more, you'll want to pitch a tent at all of the following campsites in Virginia: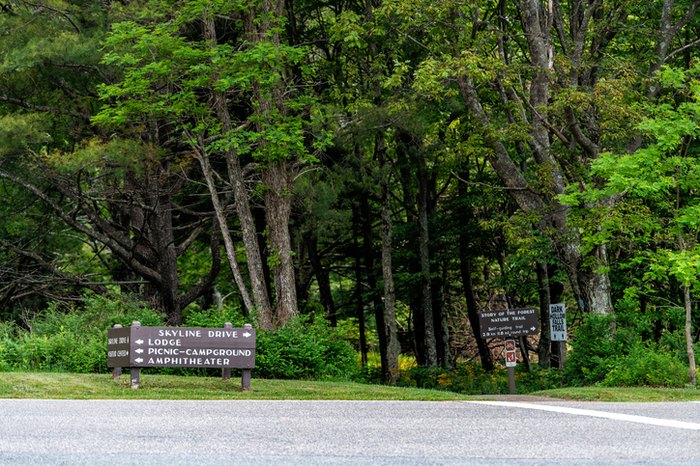 Best Virginia State Parks Camping
Virginia's State Parks are on a whole other level.
There are 41 Virginia State Parks, which boast literally thousands of campsites, hundreds of cabins, more than 500 miles of trails, and convenient access to Virginia's major waterways.
And not only that, but when you pitch a tent or rent a cabin at a Virginia State Park, you're getting to immerse yourself in some of the most beautiful regions of the state, from the Blue Ridge Mountains to the shores of the Atlantic — and everything in between.
Below you'll find what we consider to be the best Virginia State Parks for camping, as well as pertinent information for planning your next local getaway!
Top Places For RV Camping In Virginia
Over the last few years, RV camping has become increasingly popular, with outdoor enthusiasts welcoming the opportunity to travel in comfort yet still experience the best of the Great Outdoors.
Whether you're dipping your toes in #rvlife or are a seasoned pro, you'll want to check out the following top picks for RV camping in Virginia.
Best Beach Camping In Virginia
Have beach, will camp.
If the idea of pitching a tent right on the sandy shores of the Atlantic Ocean — or a startlingly blue lake — sounds like your vision of paradise, Virginia is *the* state to be.
With miles and miles of beautiful, soft, sandy shoreline, both on the coast *and* inland, you'll find the best beach camping in the country right here in Virginia.
From beautiful state parks to glamping resorts, and everything in between, here's where you'll find the best beach camping in Virginia:
Top Glamping In Virginia
If your idea of camping is more decked-out safari tent or treehouse, we get you.
There's room for all kinds of camping here in Virginia, from primitive, bare-bones camping in the state's most remote corners to posh, well-appointed glamping in some of the most amazing settings you could ever imagine.
In addition to spectacular scenery, these glampgrounds offer exclusive opportunities in nature that are unrivaled, from outdoor yoga and private swimming lakes to farm-to-table meals and bespoke experiences such as fishing excursions, hunting expeditions, and guided hikes.
If you're looking for the top glamping in Virginia, you'll find it in these luxury accommodations:
Best Camping In Northern Virginia
While there are amazing camping opportunities all across the Old Dominion, Northern Virginia is particularly flush with fabulous campsites.
Rolling hills and river valleys, mountains and forests; there is an abundance of beauty in the northern region of the state that's well-suited for all sorts of camping: primitive, lakeside, glamping, and more!
Here are some campsites that we consider to have the best camping in Northern Virginia, and they're all worth adding to your bucket list:
Map Of The Best Campsites In Virginia
Summary
Come and experience the beauty of the Old Dominion by quite literally immersing yourself in it.
There's nothing better than a camping adventure in our corner of the country, and we invite you to plan an itinerary full of fun with these sites for the best camping in Virginia.
OnlyInYourState may earn compensation through affiliate links in this article. As an Amazon Associate, we earn from qualifying purchases.
More to Explore
beautiful campgrounds in Virginia
Where can I go glamping in Virginia?
For those who prefer a less rugged experience while camping in Virginia, "glamping," which is short for glamor camping, can be a much more appealing option. These glamp-sites typically feature running water, bathrooms, showers, beds, and all the amenities you'll need for a comfortable stay while also staying close to nature. Some of the best places to go glamping in Virginia include Sandy River Outdoor Adventure and Retreat, Rose River Farm, Sanctuary Tree House at the Country Place in Luray, Rock Tavern River Kamp Yurt, Rock-N-Creek Cabin in Montebello, Camp Karma in Bedford, and the Mark Addy Glamper in Nellysford, and Blue Haven 151 in Roseland.
What is Virginia's most visited state park?
While all of Virginia's state parks are popular in their own way, by far, the most visited of them is First Landing State Park. Situated along the Chesapeake Bay, this beautiful park features 2,888 acres of gorgeous coastline, hardwood forest, and over 19 miles of hiking trails. The landscape includes a salt marsh habitat, dunes, tidal marshes, freshwater ponds, cypress swamps, and over a mile of beachfront.
What are the best primitive campsites in Virginia?
Primitive camping is a wonderful way to experience Virginia's gorgeous landscape while also avoiding the crowds. Plus, there are quite literally hundreds of primitive campsites to check out. So the next time you feel the need to get away from it all and reconnect with nature, you'll want to check out any of the following incredible primitive campgrounds in Virginia: riverfront sites at James River State Park, canoe-in campsites at Powhatan State Park, beachfront campsites at False Cape State Park, camping in the woods at New River State Park, and hike-in camping at Sky Meadows State Park. Before going camping at any of these places, be sure to visit the relevant website to learn about various rules and regulations.
Related Articles
Explore Virginia
Featured Addresses

Chippokes State Park, 695 Chippokes Park Rd, Surry, VA 23883, USA

Bear Creek Lake State Park, 22 Bear Creek Lake Rd, Cumberland, VA 23040, USA

Sky Meadows State Park, 11012 Edmonds Ln, Delaplane, VA 20144, USA

96 Sherando Lake Rd, Lyndhurst, VA 22952, USA

Occoneechee State Park, 1192 Occoneechee Park Rd, Clarksville, VA 23927, USA

Lake Fairfax Dr, Reston, VA 20190, USA

False Cape State Park, 4001 Sandpiper Rd, Virginia Beach, VA 23456, USA

108 Palmyra Rd, Edinburg, VA 22824, USA

Douthat State Park Road, Douthat State Park Rd, Virginia, USA

756 Twin Ridge Dr, Warm Springs, VA 24484, USA

Loft Mountain Campground, Virginia 22932, USA

Lake Anna State Park, 6800 Lawyers Rd, Spotsylvania Courthouse, VA 22551, USA

Natural Tunnel State Park, 1420 Natural Tunnel Pkwy, Duffield, VA 24244, USA