These 20 Towns In Virginia Have Names That Will Make You Look Twice – What The?!
You know how when you say a word over and over, it starts to sound ridiculous? Turns out the reverse is also true. A ridiculous or unusual word can start to sound perfectly ordinary if you've grown up hearing it. And so it goes with the towns of Virginia. All it takes is one out-of-state visitor driving with you and, rest assured, they'll notice these town names. And you will never hear the end of it.
1. Chilhowie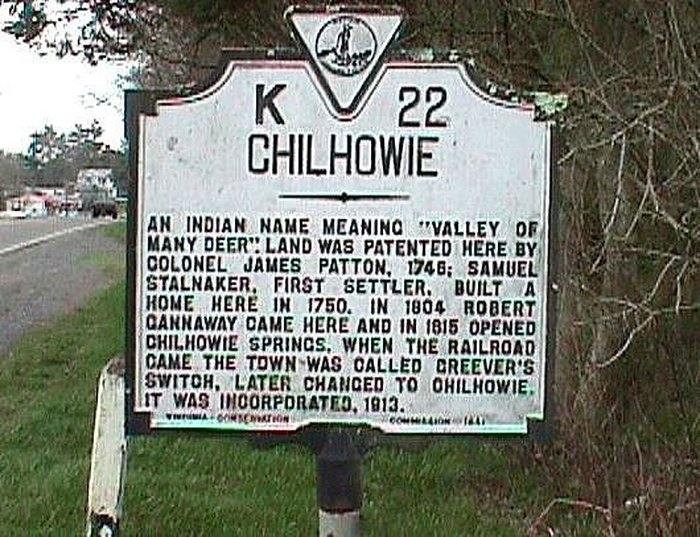 Originally a stagecoach stop through the mountains of Southwest Virginia, Chilhowie is now the gateway to the Mount Rogers Recreation Area. The name comes from a Cherokee word meaning "valley of many deer." It's a nice meaning, but mainly it's just fun to say.
2. Fries
It's actually pronounced "Freeze", but I can't help getting a little hungry every time I see this town's name. Located on the New River in Grayson County, Fries hosts annual bluegrass and fiddlers' events as part of the Virginia Heritage Music Trail.
3. Bumpass
I know, I know. I didn't name it though. This community in Louisa County actually got it's name from the Bumpass Family, prominent citizens in the 1800s. Their name comes from the MUCH more elegant French "bon pas", meaning "good step." I still don't know what was wrong with "Good Step, Virginia."
4. Assawoman 
I cannot make this stuff up. I promise. Assawoman is a teeny tiny little area on the Eastern Shore in Accomack County. The original spelling was "Assawaman" until it was officially changed in 1966. Meaning that someone intentionally changed it to Assawoman – ON PURPOSE. The good news is that it's received its 15 minutes in the spotlight by making the Huffington Post's list of Most Unfortunate Town Names. The picture shown here is actually a sign at Assawoman Bay on the opposite Maryland shore – I needed you to have proof.
5. Tightsqueeze 
This community near Danville got its name when two merchants both decided to build their shops on the road's edge, but directly across from one another. The idea was that ladies wouldn't have to get their dresses dirty when going from shop to carriage. The result was that the carriages couldn't get past the two shops without slowing down and maneuvering just right. Good thought, boys. Bad execution.
6. Skinquarter 
Just off of Route 360 in Chesterfield County, Skinquarter is an area, really, not a town, although most people will know it for the amazing Skinquarter Farm Market (formerly the Chesterfield Berry Farm), which sits just off the road. When early settlers came in the 1700s, Native Americans used this site to skin and quarter deer they had killed. So naturally, "Skinquarter" is the name that stuck. I suppose "Dead Deer Carcass" seemed a bit bleak.
7. Overall
Located in Warren County, Overall was named after the Overall family, prominent citizens in the 18th and 19th centuries. Overall, it's a pretty nice place to live. (Sorry, it had to be done.)
8. Croaker 
Croaker is a small area in James City County on the bank of the York River. It most likely got its name from the river's large quantities of croakers, small inland fish found in Chesapeake Bay waters.
9. Frogtown 
This area in Clarke County is located on…you guessed it…Frogtown Road. Naturally, Tadpole Lane intersects just a little ways down. Hmmm, I wonder how far it is from Kermit, West Virginia?
10. Dismal Town
It's not REALLY a town – anymore. This area is part of the Great Dismal Swamp in Southeast Virginia and was used by General Washington and Co. as their Dismal Swamp headquarters. Now, no one lives there but the snakes. Aptly named, I suppose.
11. Needmore
Because some people just can't get enough. This little spot on the map is a coal mining community in Wise County.
12. Lick Skillet 
Located in Smythe County, this community got its name because the roads surrounding it made the shape of a skillet. That part I get. It's the "Lick" that's throwing me off. Anyone have a back story on this one? I would REALLY like to hear it…
13. Dumfries 
It's really all about pronunciation, isn't it? As tempting as it is to say "Dum-fries", it's actually "Dum-frees." This town in Prince William County was named after the Scottish birthplace of its founder, John Graham. And here's a fun historical fact: Dumfries received its town charter in 1791, making it the oldest continuously chartered town in Virginia.
14. Jamaica
This community near Saluda in Middlesex County is home to the Virginia Motor Speedway. Although there isn't much history on how it got its name, I like to think that the founders were going with the "if you name it, it will come" approach in the hopes that sandy beaches and crystal blue water would appear. It's pretty much the same reason I call my house "Candyland."
15. Dinwiddie 
This county south of Richmond was named after Lieutenant Governor of Virginia Robert Dinwiddie in 1752. I don't know why, but it just sounds better as a last name.
16. Farmville 
Remember the days before Facebook when you could mention this sweet, quaint town in central Virginia and people would only laugh and make a farmer joke? Thanks to the inanely and insanely popular FarmVille of Facebook, it takes a lot more explaining these days.
17. Butts
I could not find a picture for this small area within the City of Chesapeake, but I promise you, I searched, and folks, there are some things I just can't unsee. I'm not sure how this place got it's name, but I'm guessing it was named after someone and has nothing to do with what happens when you google it. Note to my readers, you might want to remember to add the word "Virginia" in your search. Wish I'd known.
18. Short Pump
What used to be farmlands and a quaint little town a few years ago, is now one of the busiest areas of the Richmond Metropolitan area. This spot on the map got its name in 1853 from the short-handled pump under the porch of the town's tavern. Not the most creative naming strategy, to be sure, but I guess it's a good thing they didn't notice the outhouse out back first.
19. Burnt Chimney 
Located in Franklin County, there doesn't seem to be any record (that I can find) on how this community got its name. But there is a burnt chimney at the intersection of Route 122. So, I'm guessing the founders had run out of names by then.
20. Powhite 
This isn't a town – but my list wouldn't be complete without including it. The name pops up frequently in Richmond area locations: Powhite Parkway, Powhite Park and Powhite Creek. And the debate rages on – is it pronounced "Pow-Hite" or "Po-White"? The "official" version is "Pow-Hite", the same way you would pronounce nearby "Powhatan." But more often than not you hear "Po-White" from the locals. Whatever ever you do, don't say it incorrectly in front of the wrong people unless you want a verbal smack down. So which is the acceptable pronuciation? Try it both ways. You'll know when you've gotten it wrong.
This list only mentions 20 of the more memorable names in Virginia — but there are more. For example, Antlers, Ordinary, Pocket and Nuttsville — just to name a few. What are some of your favorite "stop and look twice when you see the sign" names for places in Virginia? Tell us in the comments below!
OnlyInYourState may earn compensation through affiliate links in this article.