This Natural Phenomenon Happening In One Of Virginia's State Parks Is Too Beautiful For Words
First Landing State Park is one of the most beautiful state parks to visit in Virginia located along Virginia Beach that offers swamplands, marshes, hardwood forests, and, every so often, a touch of magic. There's a phenomenon that can only be described as a swamp rainbow appearing over the marshy waters. These swamp rainbows are a rare occurrence, yet just like the rainbows that appear in the sky, they're absolutely breathtaking. Take a look at the following photographs and you'll catch just a glimpse of this mesmerizing phenomenon.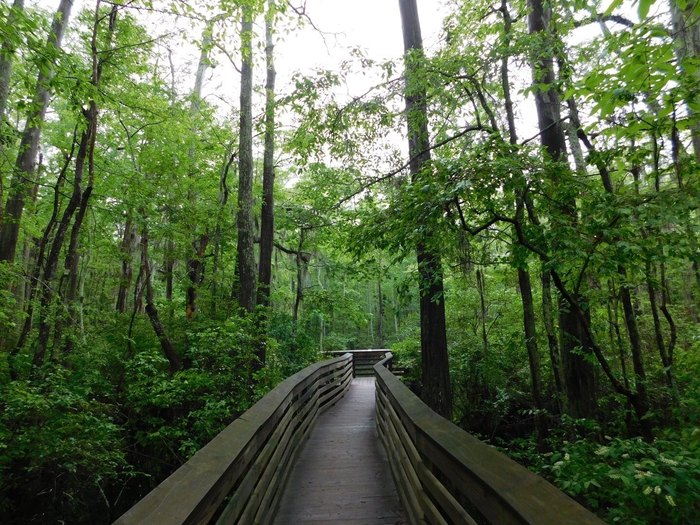 As seen in photograph below, courtesy of Brent Rossen via the Virginian Pilot, the chemicals released from the fallen leaves into the water reflect different colors and create a rainbow right there in the water. It's nearly too beautiful for words!
View this post on Instagram
Here's another perspective of this beautiful spectrum of color. According to one of the staff workers at First Landing State Park, the phenomenon can only occur when the sun is shining down on the water without any disturbance of wind or rain.
View this post on Instagram
You're most likely to spot a rainbow swamp during the months of November and December. Can you imagine a more beautiful natural phenomenon? These colors are simply breathtaking!
View this post on Instagram
First Landing State Park, one of the most fascinating state parks to visit in Virginia, is located at 2500 Shore Dr., Virginia Beach, VA 23451. Have you experienced a swamp rainbow before? We'd love to hear all about it!
OnlyInYourState may earn compensation through affiliate links in this article.
More to Explore
state parks to visit in Virginia
What are some other beautiful state parks to visit in Virginia?
It's hard to imagine Virginia without its breathtaking state parks. In our opinion, each of them is worth visiting. In addition to First Landing State Park, there are a host of other parks that will inspire both awe and a sense of adventure. One of our top recommendations would be Hungry Mother State Park in Marion. With gorgeous mountain scenery and a lake for fishing and boating, this park has no shortage of recreational opportunities. Another must-see park is Grayson Highlands State Park in Mouth of Wilson. Located near the North Carolina border, this majestic park is home to rugged scenery as far as the eye can see. Nearby is Mount Rogers, the tallest peak in Virginia, as well as a host of wild ponies that reside in the balds. Other noteworthy state parks in Virginia include Occoneechee State Park in Clarksville, Natural Tunnel State Park in Duffield, High Bridge State Park in Farmville, Douthat State Park in Millboro Springs, Westmoreland State Park in Montross, Pocahontas State Park in Chesterfield, Wilderness Road State Park in Ewing, and Chippokes Plantation State Park in Surry. Curious to learn more? Check out our previous article: 17 State Parks In Virginia That Are Absolutely Breathtaking.
Does Virginia have any hidden gems?
There are so many hidden gems in Virginia, in fact, that we've put together a road trip that will take you to some of the best. Some of the stops along the way include Belle Isle State Park, the historic Polegreen Church, Barboursville Ruins, White Oak Lavender Farm, Virginia Safari Park, Carvins Cove, and the Mill Mountain Star. For more information about this hidden gems road trip through Virginia, you can click here.
Related Articles
Explore Virginia
Featured Addresses

First Landing Beach, Virginia Beach, VA, USA